MEREDIAN — Last time, it was a nailbiter. This time, it wasn't as close.
The Dietrich High School boys basketball team had few answers for the Genesis Prep Jaguars in the semifinals of the 1A Division II state tournament, falling 68-59 Friday at Rocky Mountain High School.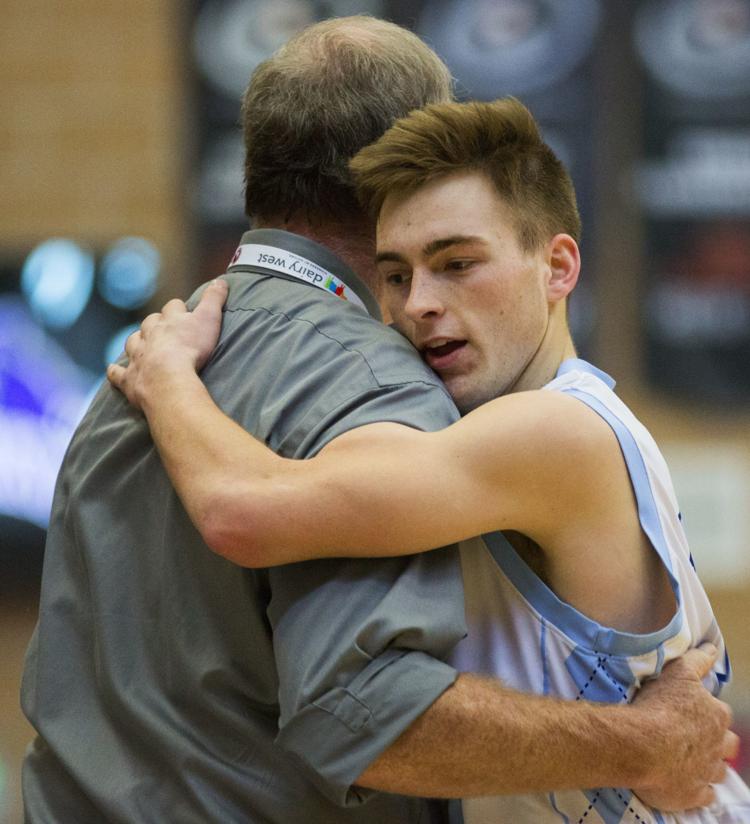 It wasn't quite the level of back-and-forth competition in last year's state championship game, which Genesis Prep won 68-62, but it wasn't as if Dietrich didn't execute many parts of its gameplan.
The Blue Devils, know for their speedy pace, quickly got 6-foot-9 post Kon Ajang into foul trouble, as he racked up three by the end of the first quarter. They were in the double bonus with about 5:30 to play in the first half.
In fact, 16 of Dietrich's 26 halftime points were from free throws. Otherwise, the Blue Devils were pretty quiet.
"The first quarter we played well until the very end," Dietrich head coach Wayne Dill said. "We started to throw the ball away a couple of times. They gained a little bit more, but the progression of the game was still good."
One thing that carried over from last year's game showed up in the first half: Dietrich had few answers for Jaguars forward Jonny Hillman, who scored a game-high 29 points in last year's title game. With Ajang out, Hillman complemented his jumpers and crossovers with quick drives to the basket, earning 15 points by halftime.
In the third quarter, the game ran away from Dietrich in the span of a few minutes. By the 3:30 mark, Genesis Prep had already posted 19 points, most from easy layups and breakaways created by turnovers (23 overall) and missed shots by the Blue Devils. The Jaguars outscored Dietrich 26-9 in the quarter.
"We had a rough third quarter," Dill said. "I would've liked to have gone to the press sooner, but I didn't think we had enough gas."
He called the team together and asked them if they wanted to lay it all out, even if it may leave them a little tired headed into Saturday's game, and the team said yes.
Soon after that decision, turnovers mounted on Genesis Prep. Down by 25 points headed into the fourth quarter, Dietrich made a sprint to the finish, pulling the lead tighter and tighter, as close as seven points within a couple minutes to play.
However, Genesis Prep hit its free throws with fair consistency, and there were few 3-point looks in the final minutes of the game for Dietrich.
Hillman finished the game with 26 points, but Dietrich's Slade Dill (Wayne's son) finished with the game high of 28 points, and he grabbed a game-high 14 rebounds. Kade Shaw added 15 points, 13 of which came from the free-throw line, and fellow senior Lon Page had 12 points and eight rebounds for Dietrich.
After last year's game, the presence of international students playing for the Jaguars became a front-and-center issue, as teams like Dietrich, which draws from about 25 boys at the high school, raised questions about how to compete with what Genesis Prep could bring in.
Dill didn't think this game's outcome related to any of that, and he doesn't think things will get any easier next year, when students with F-1 visas will be barred from playing in the postseason.
What he was most concerned about after Friday's game was getting his Blue Devils (23-2) ready for its third-place game against Tri-Valley on Saturday. Dill got emotional when speaking about his seniors who won't see the title game after a great regular season.
"They left it all on the floor," he said. "There's a lot of hurt boys in that locker room who are good enough to be there."
Genesis Prep 68, Dietrich 59
Genesis Prep 16 18 26 8 — 68
DIETRICH (59) — Raygn Robertson 2, Kyler Robertson 2, Kade Shaw 15, Slade Dill 28, Lon Page 12.
GENESIS PREP (68) — Jake Shelton 2, Max Reidt 1, Junior Williams 14, Jacob Schroeder 4, Jonny Hillman 26, Jacob Schutz 6, Kon Ajang 13, Luke Gonzales.