POCATELLO — The chant rang out from a huddle of Hornets as the Declo High School football team celebrated its 2A state title win: "Day by day, we get better and better, until we can't be beat, until we won't be beat."
The Hornets accomplished just that, finishing off their season 13-0 with a dominant 47-6 title game win over Firth.
It started early, as the first half belonged to the Hornets and their many weapons. When junior running back Keegan Duncan wasn't on, senior running back Garrett Darrington was. When Darrington struggled, junior quarterback McKay Breshears spread the field out.
And when the offense left the field, the defense held strong, allowing no score for the Cougars at halftime.
Four different Hornets scored in the first half, and the chances escalated as the clock wound down to halftime. Breshears scored on a 1-yard rush for the lone touchdown in the first quarter, followed by a Nathan Duke reception early in the second quarter. Duncan danced in from nine yards out midway through the second quarter, and Darrington took a toss for an 8-yard TD with 1:10 remaining in the half.
With a 27-0 halftime score, the game was already getting out of reach, and Duncan said that was the goal for every game of the season.
"That's what we do," Duncan said. "We push our opponents to the max, and by halftime, they're pretty well done. We've conditioned so hard this year so that we can do that."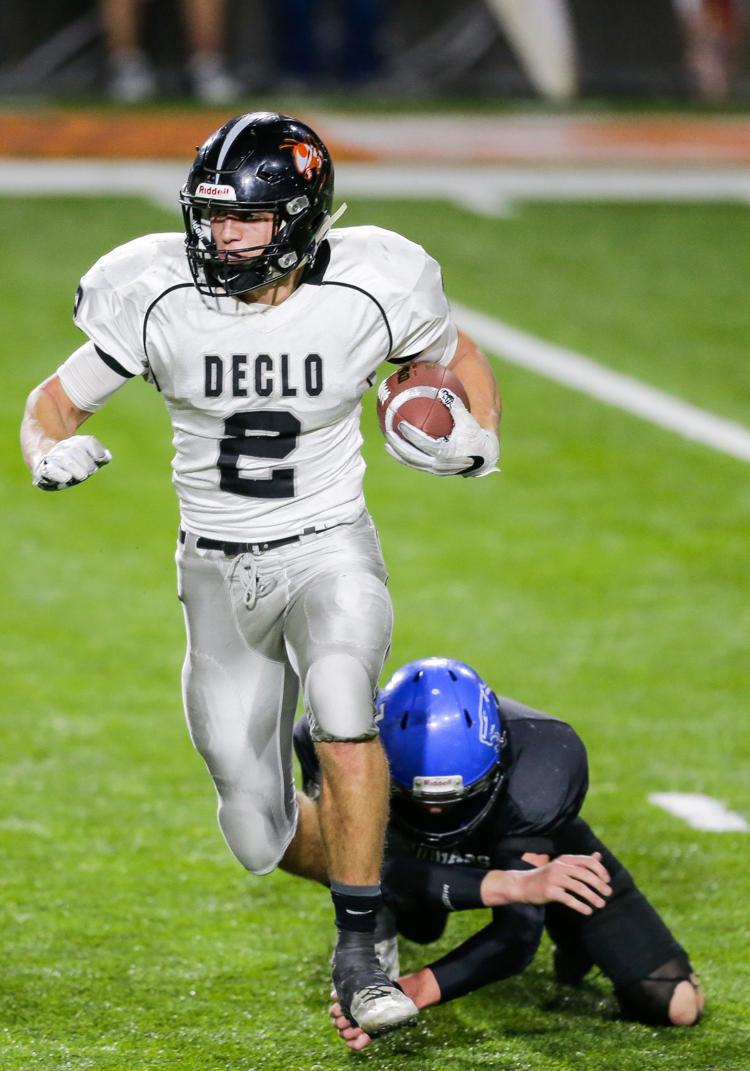 There was only one concern for Declo in the first half, and it was a major concern. As Duncan rushed inside the red zone, he was taken down and his helmet snapped off with less than two minutes left in the half. Duncan spent the remaining part of the half with his pads off as the coaches tended to his collarbone, which Declo head coach Kelly Kidd said had been a little sore. But Duncan came back out of halftime suited up.
Even though he felt good coming out of locker room, he said it didn't matter either way.
"I'm playing in the state championship game," Duncan said. "Who cares if I get hurt or not? I'm playing."
On his first touch, he sprinted past two Firth defensive backs with good angles from 55 yards out to make it 33-0. Duncan finished the game with 165 yards and two touchdowns.
Firth's lone score came on a 1-yard punch-in by senior running back Remington Chapman to start the fourth quarter, and Darrington quickly responded with a 2-yard rush to keep the lead out of reach at 40-6.
Late in the game, Declo head coach Kelly Kidd began to substitute in seniors, then underclassmen, until everyone Hornet got a snap.
One of these shifts led to a touchdown. With about four minutes left in the game, senior quarterback and kicker Tanner Schroeder pitched it back to Duncan, who tossed it to senior wide receiver Hunter Oppe for the final score.
Kidd said that he's given every Declo player game time in all three playoff games this season.
"We're happy to get the kids in and pay them off for their hard work," he said.
Junior linebacker and offensive lineman Tyson Mathews said that one of the keys to the game was the playoff experience that many of the starters had, helping them to control their emotions and play focused from the start.
"Yes, you're going to get that nervousness," he said, "but, I mean, we knew what the feeling was like from last year, and we welcomed that feeling."
For Kidd, it's a win with a special team he almost didn't end up coaching.
In August, Kidd told the Times-News he considered retiring before this season following the graduation of his son, Christian. But he decided to align his retirement from coaching with retirement from teaching, for which he will be eligible in 2019. That allowed him to continue coaching his exceptional group of juniors and seniors.
After the win, he said he was so glad he made that choice.
"It's what coaches coach for," he said. "To win that last game of the season, it's really special."
Darrington is one of 12 seniors on the Declo roster who ended their careers with a state title.
"It's probably the best feeling I've felt in a long time," he said. "Doing this with our guys in my final year, it's going to be a memory that's going to last for a lifetime."
Next year, Duncan, Breshears, Mathews and a handful of other starters will return to defend the title. Duncan said that despite having a target on them next season, this game will push them to do even better.
"Everyone's going to remember how good it felt," he said. "So we're still going to work just as hard or harder this offseason to get back here."
D – McKay Breshears 1-yard rush (XP no good)
D – Nathan Duke 10-yard pass from Breshears (2 pt no good) 10:53
D – Duncan 9-yard rush (2 pt good) 7:20
D – Garrett Darrington 8-yard rush (XP good) 1:10
D – Duncan 55-yard rush (XP no good) 9:09
F – Remington Chapman 1-yard rush (2 pt no good) 11:57
D – Darrington 2-yd rush (XP good) 9:30
D – Hunter Oppe 7-yard pass from Duncan (XP good) 3:55