NAMPA — Few things tested the Preston High School boys basketball team this season, but the Burley Bobcats were always right there with the two-time defending state champion.
Burley kept it close, but Preston powered to the finish, winning 61-56 to earn its third consecutive 4A state title and finish the season with a 26-0 record.
For three quarters of the game, it was too close to call.
The first half ended in a 25-25 tie, with each quarter's score differential at a single point.Senior guard Ryan Bagley spearheaded both sides of Burley's first-half effort, with a team-high 10 points, three steals and three fouls drawn.
But when the second half of play opened up, Preston sprinted out to a 9-2 run to begin a third quarter that ended 17-8 in its favor.
"They executed well," Burley head coach Trent Whiting said. "They were really good on ball screens. (Derek) Wadsworth got a few calls that I didn't agree with, but they did a good job of executing and putting us in a situation where refs made the call."
However, anyone who has seen the Burley Bobcats this year knows that a deficit never gets them down. The girls basketball team shook off a 10-0 first quarter to win this year's 4A state championship — why not the boys team, down nine?
Bagley made a big effort to bring the upset to fruition, driving downhill to draw and handful of fouls and sink a couple layups.
"We just tried keeping our heads up and playing strong," he said. "We go down in the third (quarter), so I just felt like if I kept attacking and getting fouls, we'd stay in it."
Though others replaced Bagley as top scorer in the first two days of the tournament, Whiting said his senior guard is who the offense works through, especially in times like this."He's been our leader all year, and we're not going to change who we put the ball in the hands of at the end of the game," Whiting said. "That senior leadership is crucial in the fourth quarter. He did his best to keep us close, which he did."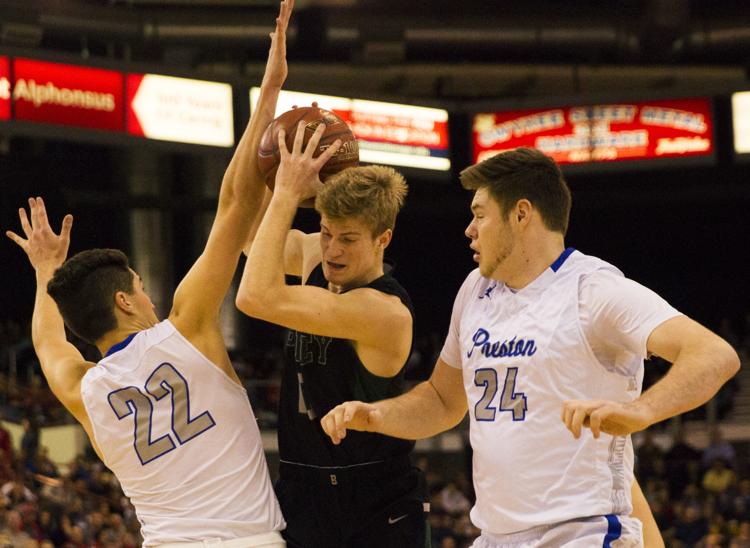 Bagley's effort led to a 23-point final quarter for the Bobcats, and he and his teammates were clutch from the free throw line — a combined 15-of-19 in the second half, with Bagley's 8-of-9 for more than half of the made attempts. He shot 11-of-12 from the line in the game (4-of-13 from the field).
The problem: Preston was just as clutch. As Burley switched to a quick foul strategy in the final two minutes, the Indians went 6-for-6 from the line to stymie the Bobcats' comeback.
The tenacity Burley showed in the fourth quarter was indicative of the entire season, Whiting said. Burley lost to Preston 64-56 in the season opener and 56-45 on Dec. 22. The Bobcats also fell to Century and Twin Falls in the regular season, but they beat Twin Falls twice in the district tournament and handled Century in Friday's state semifinal game.
"They just keep fighting all the time," he said. "We never got blown out by anybody. In games we lost, we were right there in them. I'm proud of these guys. They're tough."
Bagley ended up as the high scorer for the game with 20 points. Fellow Burley senior Andrew Ferrin had another playoff double-double with 18 points and 10 rebounds.
The process wasn't easy to get to the title game, Whiting said. A first-year coach, an 0-2 start to the season at the hands of Preston and Century and a couple tight games that shouldn't have been so tight.
"I felt like if we weathered the storm for the first half, and just stayed the course, we would continue to get better," Whiting said. "Maybe we'd lose a few games along the way, but ultimately get to a point where we could contend for the state championship. We did a great job getting here."
Bagley, whose father Jack was Burley's previous head coach, said despite being one win short of the ultimate goal, his senior season ended on a high note.
"We had two coaches to start off the season, and just to end up at the state tournament, it's a crazy experience," he said. "It's probably one of the best experiences of my time in high school. It was just amazing."
BURLEY (61) — Brock Whitaker 2, Andrew Ferrin 18, Ethan Gibbons 1, Ryan Bagley 20, Jace Whiting 6, Jackson Hill 9.
PRESTON (56) — Ty Hyde 2, Derek Wadsworth 19, Britten Atkinson 12, Kyler Burbank 8, Dixon Ware 2, Chance Hart 4, Brayden Parker 14.