RUPERT – A trio of Mini-Cassia high school football teams neatly illustrate the various stages of success and failure, of dynasty and rebuilding.
There's Minico, which overcame decades of futility to become a perennial playoff team, trying to find its championship gear. In November, the Spartans made their first ever state title game appearance.
There's Declo, a 2A powerhouse that enters almost every season with championship expectations. The Hornets capped off an undefeated season with a state title in 2017.
And there's Burley, which has won just six games in the past five years after posting a 5-4 record in 2013.
Burley and Declo provide two polar models for Minico: the dark days, and the bright future. Reaching Declo's heights is no small task, but climbing out of Burley's depths can be just as difficult.
Tony Cade became the Bobcats' head coach prior to the 2017 season, and he soon discovered how much work he needed to do.
"Usually when you join a program, you have four, five dudes," Cade said. "We didn't have any dudes."
Cade couldn't pin every problem on the group he inherited. Sure, other 4A teams like Minico had more talent and more depth last season, but Burley's struggles have spanned decades.
The Bobcats haven't won a state title in their history, and they have scarcely sniffed contending. In 1990, they lost to Idaho Falls 27-17 in the A-1 Division 2 state title game, the second-largest division under Idaho's former classification system. Four years later, Madison beat them 12-7 for the title. They haven't reached the postseason since, per Idaho High School Activities Association archives.
"Coming down here, there wasn't much. Tradition wasn't here, foundations hadn't been set," Cade said. "What do we do? We've gotta start from the beginning, and how do we do that?"
Declo has been solid-to-elite at the small-school level for as long as Kelly Kidd can remember, even before he took over as the Hornets' head coach in 1996. Myriad factors, including talent, stability, culture and luck, have made Declo a football powerhouse.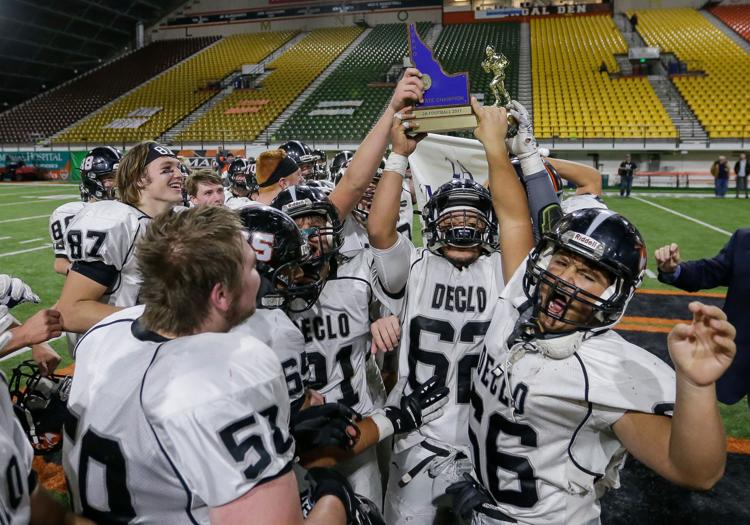 Burley is still a long way from building a winning tradition, so modeling its program after Declo would be premature. But for Minico, the Hornets can provide a road map.
Despite decades of strong teams and playoff berths, Declo didn't capture its first state title until 2012. The Hornets frequently found themselves in the semifinals, and consistently went home with a second- or third-place trophy.
"We just couldn't get past that threshold. As a coach, you're thinking, 'Is it me? Can I get them past third place?'" Kidd said. "The belief that you're able to compete for a state championship, that has to be learned."
The Hornets lost the 2008 2A state championship game in heartbreaking fashion, 29-28 in overtime to Parma. The next year, they lost to Parma again in the title game, 36-20 this time. Kidd was devastated, but he viewed these losses as proof that his team could win a title.
The turning point, Kidd said, happened in 2010, when Declo was shut out by West Side in the state semifinals.
"We were mentally ready to be a state championship team, we were prepared enough, but we were physically not ready," Kidd said. "We vowed to get better in the weight room."
Two years later, the Hornets beat Firth 22-12 for their first title, and they won their second a year later. Last November, they trounced Firth 47-6 for their third 2A championship.
Of course, Declo needed more than belief and weight lifting to build a dynasty. Talent has funneled through the football program for decades, and not every school enjoys that luxury. Burley knows that all too well.
But Declo has also maximized its available talent. Boys who grow up in Declo are excited to don Hornet jerseys, so few phenoms slip through the cracks or focus on other sports. Kidd's staff has also been stable for most his tenure, and a familiarity with "Declo football" has settled into the community.
Minico has enjoyed similar stability with Tim Perrigot, who became the head coach in 1996. Before he took over, the Spartans spent decades as bottom dwellers — just like the current version of their archrival Burley. Now the program hopes to take another leap, landing at a state championship.
Cade, meanwhile, knows success takes time, so one rough season isn't going to dampen his optimism. He believes the Bobcats can reach the heights of their Mini-Cassia counterparts.
"I hope it doesn't take 20 years," Cade said.