BUHL — The Buhl High School girls basketball team got a strong first conference win 62-55 at home over Gooding on Tuesday night.
Sage Eckert fueled a strong first quarter for the Indians with eight points, but had three fouls by the midway point of the second quarter, forcing her to sit the remainder of the half.
Her teammates stepped up, especially from the bench, to keep Buhl on top 24-20.
"We had some great girls off the bench in the first half," Eckert said. "They really kept us in it."
But two quick 3-pointers by Grace Parker and Erika Anthony for the Senators gave them the lead out of the half. The game quickly began to pick up physicality, with fouls starting to rack up both ways.
"It was a very physical game," Eckert said, "but we kept our cool and hit free throws."
It wasn't just free throws, though. In the fourth quarter, up by three points, Eckert sunk two straight 3-pointers for a 47-41 lead with under four minutes to play.
"At that point, we just needed an energy push," she said. "Those two shots were definitely that."
Buhl would extend that lead to 54-45, and head coach Kody Bingham said that his team's ability to step up at the free-throw line was key to finishing strong.
"We really hit those foul shots down the stretch, and I think that was a big difference maker," he said.
Gooding head coach Jysen Lancaster said his team "came out flat" and couldn't play with the tempo necessary given the Senators' lack of size.
"We really started to struggle with playing at a fast pace last year, and it seems to have translated over to this year," he said. "We've just got to get quicker and run at a better speed."
Gooding's Grace Parker led all scorers with 25 points, but did so more from the free-throw line than the post, as Buhl established a heavy presence the paint. The Senators are now 3-2 on the season.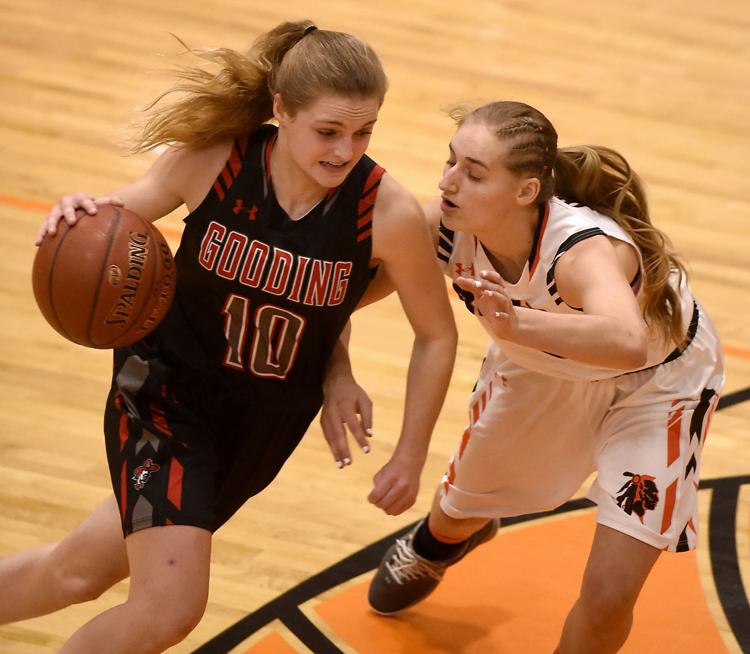 Buhl moved to 4-1 with the win. Eckert, who finished the game tied with teammate Emily Gorrell for Buhl's high scorer at 20 points apiece, said that the way her team is playing to begin the season gives her hope in a bigger sense than just this season.
"The girls program hasn't really been at a high for a while," she said, "so this kind of win, especially with a loud home crowd, is big in building momentum."
BUHL (62); Jaramillo 2, Benson 1, Eckert 20, Lively 2, Vera 1, Azevedo 7, Gorrell 20, Somers 8, Morse 1. FG: 19. 3-pointers: 4 (Eckert 3, Gorrell 1). FT: 20-32. Total fouls: 21. Fouled out: Lively.
GOODING (55); L. Wolf 10, Faulkner 2, Comstock 1, Anthony 11, Parker 25, Brown 3, K. Wolf 3. FG: 14. 3-pointers: 6 (L. Wolf 2, Anthony 2, Parker 1, K. Wolf 1). FT: 21-35. Total fouls: 24. Fouled out: L. Wolf.
HIGHLIGHTS