BLISS — Before the Buhl High School boys soccer team could prepare for Tuesday's game, it had to wait for the bus.
The school bus that was originally meant to transport the Indians up to Bliss didn't show up, according to Buhl coach Ado Mustafic. The Gooding volleyball team played in Buhl Tuesday night, so the Buhl boys soccer team rode in Gooding's bus once it arrived.
Buhl's district semifinal game at Bliss started 30 minutes late because of the bus delay, and the Indians had 12 minutes to warm up, instead of the normal 45.
Bliss took a little while to get going, but it finished with a 4-0 win Tuesday night. The Bears (13-1) are onto the High Desert Conference championship game.
"We came in strong, expecting the game to be close," Bliss sophomore Alex Cruz said. "Once we started breaking through the defense, I noticed we could actually score, so we just stuck as many passes as we could, shots, and they fell."
Bliss had at least three good chances in the first 20 minutes, but it came up empty. In the 35th minute, Cruz lined up a long free kick and fired toward the goal. Buhl's keeper misjudged the bounce, and the ball squirted under his hands and into the net.
The Bears carried that 1-0 lead into halftime.
In the 55th minute, senior Fernando Marez was credited with a goal off a corner kick to put Bliss up 2-0. Eight minutes after that, senior Armando Cordoba scored to effectively seal the win. Marez netted a header in the 79th minute to cap the scoring.
Before Cruz's goal, Bliss had to replace keeper Jose Perez, who suffered a wrist injury. Fellow sophomore Kaleb Gabriel came in for Perez, and he pitched a shutout with lots of help from his defense, led by sophomore Jesse Swift.
Gabriel didn't expect to enter the game. He wasn't even wearing his own jersey.
"I didn't even warm up," he said.
He admitted some pressure, but he felt ready for the job.
"I like tough saves. Tough saves mean I did my job," Gabriel said. "I know I can trust my defense."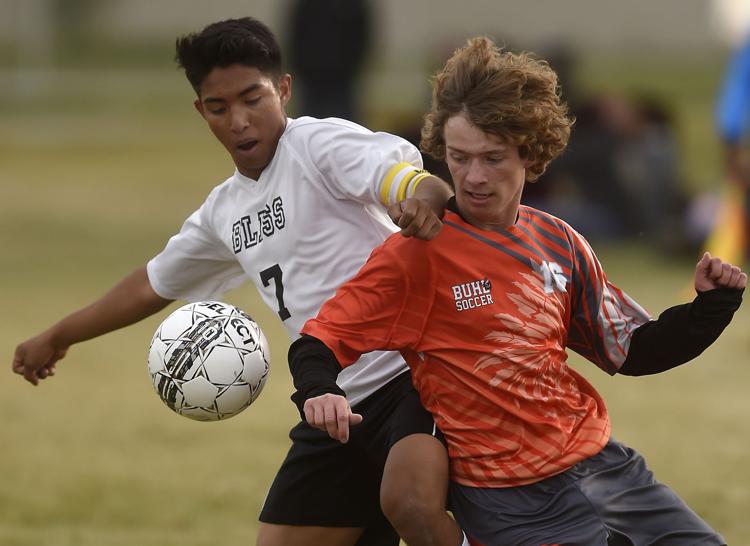 Buhl battled Bliss in regular season losses of 2-1 and 2-0. Mustafic was confident going into Tuesday, and he wondered how the game would have played out if the buses ran on time.
"I'm not blaming that. I think it's part of it," Mustafic said. "Our own mistakes cost us the game."
The fifth-seeded Indians will host No. 6 Wendell on Thursday in a loser-out game.
Top-seeded Bliss will host No. 2 Community School on Thursday. These two met in last year's district title game, and Bliss made up for two regular season losses with a 1-0 win.
This season, the Bears won the first matchup 5-2, but the Cutthroats won the second 3-2. That is Bliss' only loss of the season.
"I just hope we play our hardest, hopefully win," Gabriel said. "Coach needs some Gatorade dumped on him again."