FORT DODGE, Iowa — Earlier this summer, Eric Fitzpatrick was working at a running store in Boise. On Saturday, he won a national cross country championship.
Fitzpatrick highlighted a successful day for the College of Southern Idaho men's and women's cross country teams. The women finished fourth and the men placed sixth in the team standings at the NJCAA Division I cross country championships.
"Being able to participate in the race was a blast," Fitzpatrick told the Times-News over the phone on Saturday. "The title was just icing on the cake."
Fitzpatrick wasn't the only Golden Eagle simply happy to be participating in the national meet. A year ago, CSI had just announced it was forming a cross country program for the first time this century, and head coach Lindsey Anderson had just been hired.
Anderson filled out most of her roster by July, but a handful of runners were not on board yet. One of those runners was Fitzpatrick.
Fitzpatrick, 25, graduated from Boise High School in 2010 after winning three straight 5A individual state cross country championships. He then went to Oklahoma State, an NCAA Division I school, to run cross country, but he returned to Boise after a year of redshirting for the Cowboys.
"I wasn't quite fully mature for college when I was 18," he said Saturday. "Wasn't ready being away from home."
Fitzpatrick briefly enrolled at Boise State after he came back home, and he spent six years working full-time. He continued to run, and he said he competed in three large marathons: the Famous Idaho Potato Marathon, the Rock 'n' Roll Las Vegas Marathon and the Boston Marathon.
Last year, Fitzpatrick wanted more progression in his life, and college provided the best chance to do so. When he heard a school down the interstate was starting a cross country program, he contacted Anderson. She was impressed by his accolades, so she brought him aboard.
"I had been saving up to go back to school for quite a while, and I was waiting for the right time and right opportunity," Fitzpatrick said. "The College of Southern Idaho offered that to me."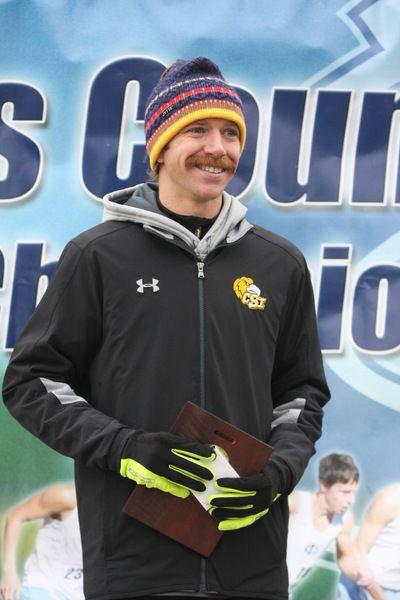 Fitzpatrick and Anderson had high expectations going into this season, but neither predicted he'd win a national championship. He hadn't run cross country in years, and he wasn't sure if his body would hold up over the two-month fall season.
As the season progressed, Fitzpatrick's fitness improved, and the overuse injuries he feared never appeared. By this weekend, he thought a top five individual finish at the NJCAA championship was attainable.
Fitzpatrick said he hung around fourth or fifth place for most of the cold, windy race.
"Third place would've been a great accomplishment," he said. "But I came down the home stretch, dug deep and knew that I wanted to win the race."
Fitzpatrick finished the 8-kilometer race in 24 minutes, 45 seconds. The second-place runner was more than three seconds behind Fitzpatrick's pace.
"You coach a national champion only a handful of times, if you're lucky, in your career," Anderson said over the phone Saturday. "To have one in your first season is surreal."
In the 320-person men's race, Riley Taylor finished 25th (25:58.7), Chase Barrow placed 47th (26:35.7), Minico High School graduate Zak Montoya was 80th (27:03.4), Clayton VanDyke was 95th (27:12.5), Ezekiel Stelzer was 103rd (27:15.3) and Jonah Schoppe finished 141st (27:42.6).
Among the 309 finishers in the 5K women's race, CSI's Shaylee Hill took eighth place with a time of 18:14.1 — about 50 seconds behind the winner.
Elsewhere for the CSI women, Bailey Wall placed 15th (18:41.3), Kayli Draney finished 27th (18:59), Jantzen Mazziotti was 66th (19:46.5), Katie Christopherson was 75th (19:54.9), Haley Bean was 98th (20:12.9) and Marley May was 134th (20:38).
Fitzpatrick, Hill and Wall were all named NJCAA all-Americans.
"I knew we could be top 10 teams," Anderson said. "As we got further along, they started to really get confidence that they could, as well."