BOISE — For the 16th straight season, the Boise State football team won its home opener. And this one was unique — it started, and ended, well before the sun went down.
That combination did not bring more fans. In fact, Saturday's attendance at Albertsons Stadium was the lowest for a home opener in 10 seasons.
Pin-pointing the reasons for any lull in attendance is difficult. Even a survey taken by every Boise State fan alive could fail to deliver a conclusion. Saturday's announced attendance of 31,581 could have been a fluke.
But a few factors surrounding Saturday's game — a 24-13 Broncos win over Troy — help explain the increased number of empty seats. Part of the problem might be found in a decision that was intended to increase attendance.
"Overall, I thought the day game was fantastic," Boise State head coach Bryan Harsin said postgame. "Getting out there, you're not under the lights, the sun's out, you're dealing with that. There were some other factors, some other elements. It was awesome."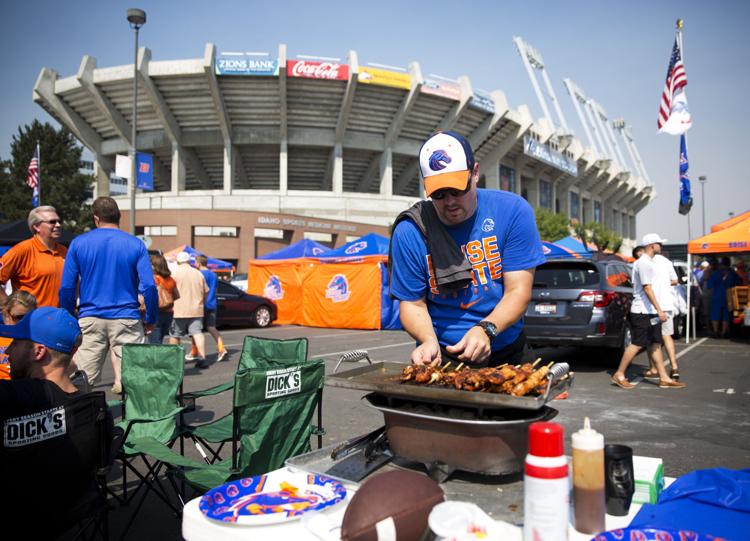 Before Saturday, Albertsons Stadium hadn't hosted a home day game since September 7, 2013, when Boise State played UT Martin in its home opener (the second game of the season). The attendance that day, with a 1 p.m. local kickoff, was 33,293.
That number wasn't significant compared to home openers in recent years. Boise State's previous three home openers hosted just over 34,000 fans. In 2009, when the Broncos opened their season at home against Oregon, Boise State set a stadium record with 34,127 fans.
Attendance soared the next three home-openers. In 2014, 34,910 fans went to the Broncos' first home game. The 2015 and 2016 home openers hosted crowds above 36,000.
Home crowds have ebbed and flowed since the last day game. The attendance dropped below 30,000 twice, both in 2014, after the Broncos began the season 3-2 (they went 8-5 the previous season).
Saturday's attendance was the lowest for any home Boise State game since Nov. 20, 2015 against Air Force (30,332).
So the 31,581 figure isn't unheard of in Boise State's decade of excellence. But it is an outlier, especially for recent home-openers.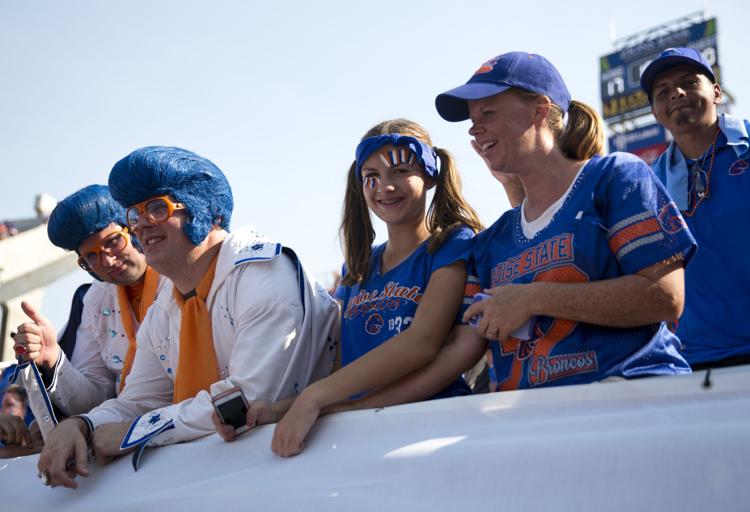 Part of the issue could stem from the product on the field.
The Broncos were not ranked in the preseason top 25 of either the AP or coaches polls (they did receive votes in both polls). College football expert Phil Steele ranked Boise State No. 45 in the nation before the season began, and he predicted San Diego State to win the Mountain West Conference for the third straight season. Boise State's last conference title came in 2014.
The Broncos have also lost an average of 3.2 games per season since 2012. From 2006 to 2011, they lost six games total, with two undefeated seasons that ended in Fiesta Bowl victories.
On this year's preseason depth chart, nine sophomores were listed as starters. That doesn't include the other underclassmen who saw time on Saturday, or the upperclassmen who are first-year starters.
This isn't a veteran group expected to compete for a national title.
Sophomore Alexander Mattison is still competing with senior Ryan Wolpin for snaps as Boise State's main running back, replacing star Jeremy McNichols, who made the 2016 all-Mountain West second team.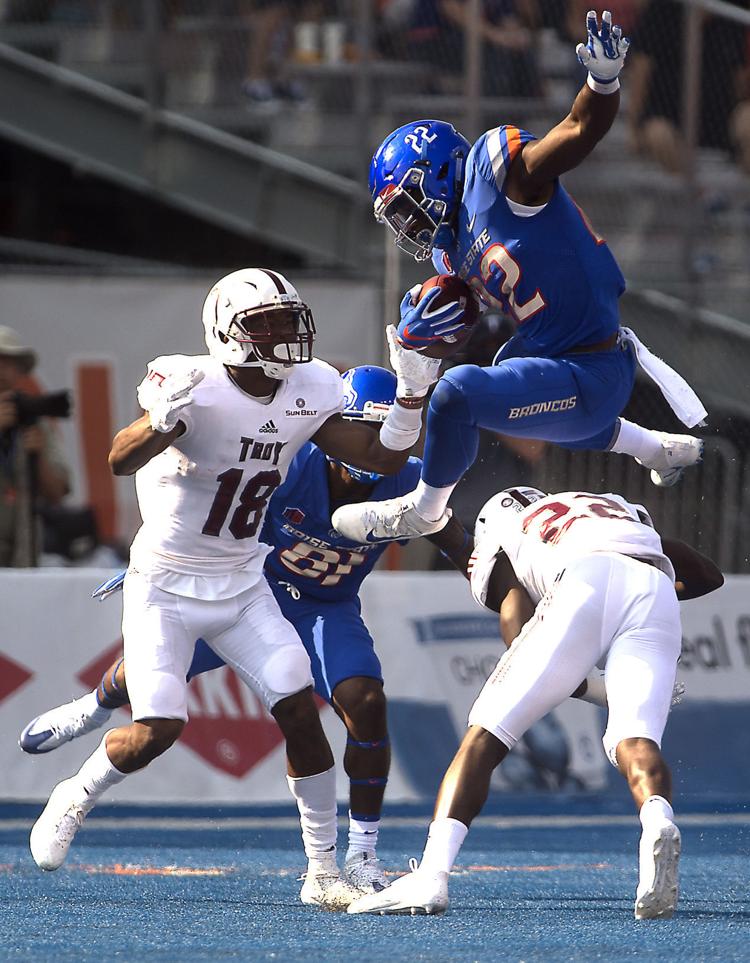 Boise State does return all-MWC first team quarterback Brett Rypien, but he saw the sideline for large chunks of Saturday's game, including most of the fourth quarter. Harsin downplayed the decision to play dual-threat QB Montell Cozart in place of Rypien throughout the game. The plan was determined before the game, Harsin said.
"It's one guy's playing, or one guy's not," Harsin said. "It's not like this internal battle that you have on the sideline with your own team, and some guys pick sides. It's not that way. Guys play."
The blazing sun pounded fans in the northeast stands all afternoon, causing many of them to abandon their seats. Perhaps the sweltering forecast convinced potential ticket-buyers to stay home, as well.
UPDATE (9/3): Boise State issued the following statement after Saturday's game:
"Despite planning all week for high temperatures during Boise State's season-opening game against Troy, concessions stands throughout Albertsons Stadium ran out of bottled water. In response, concessions staff set up kiosks throughout the stadium, distributing cups of water free of charge. Boise State and its concessions partner, Aramark, have already discussed how to prevent this from being a problem at future games."
Mattison didn't detect a drop in enthusiasm from the Albertsons Stadium crowd.
"The energy was up, everybody was into the game," Mattison said. "The only thing that was different was it was a little bit hotter."
That 100-degree heat wore on the Broncos a bit, Harsin said.
"The heat was a factor," Harsin said. "We had a couple guys cramp, and I thought we did a pretty good job all week long of hydrating our guys."
Saturday's game at Albertsons Stadium was between two teams that went 10-3 overall and 6-2 in conference last year. Rypien is an elite quarterback, and few could project his struggles and sideline-standing on Saturday. Many fans clamored for games to begin before sunset, and they got just that to open the season.
But if Boise State's last home day game is any indication, maybe night games are more likely to park fans in seats.