BOISE — On 2nd down and 7, Boise State running back Ryan Wolpin ran left for an 8-yard gain. One play later, Jake Roh rushed up the middle for a 6-yard touchdown.
A few things stood out about that sequence. First off, Jake Roh is a tight end, but he was lined up at quarterback and moved like a running back on the 6-yard run. Secondly, his touchdown gave the Broncos a decisive 21-7 lead over New Mexico with 11:55 left in Thursday's game.
Wolpin's run was rightfully overshadowed, but it was notable. That rush was the longest by a Boise State running back up to that point.
The Broncos' rushing woes in their 28-14 win over New Mexico were alarming, yet normal at the same time. Boise State has produced multiple all-Mountain West — and all-American — running backs this decade. Two of them — Jay Ajayi and Doug Martin — are currently starting for Floridian NFL teams. Yet through three games this season, Boise State (2-1) has received little production from its tailbacks.
"We want to be a run-first team, and tonight, I feel like we didn't do that," Boise State quarterback Montell Cozart said after Thursday's game. "Going into next week, that's something we're gonna put emphasis on."
Boise State went into this season with a massive hole in the backfield. Jeremy McNichols, a two-time all-conference second team selection, left for the NFL, and his 1,709 yards and 23 touchdowns weren't exactly easy to replicate.
The Broncos started the season with a respectable output from their running backs. Against Troy two weeks ago, sophomore Alexander Mattison ran for 82 yards on 13 carries (6.3 yards per carry), and Wolpin compiled 47 yards on 17 attempts (2.8 ypc). The Boise State running backs would have averaged a mere 2.9 ypc that day if not for a 49-yard touchdown run from Mattison.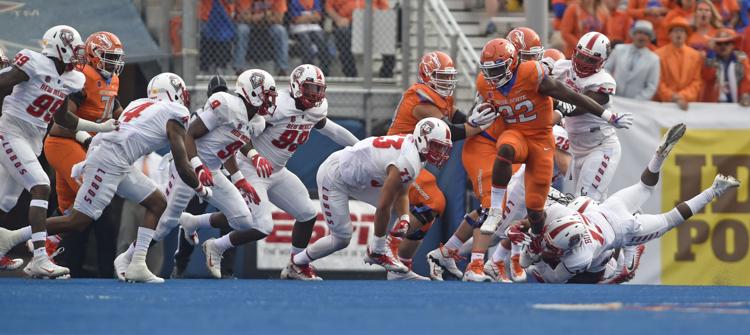 A week later, Boise State's running backs combined for 99 yards on 23 carries against Washington State. That 4.3 ypc mark was unspectacular but not terrible, especially against the 20th ranked team in the country.
One game later, albeit five days after a triple-overtime loss, the Broncos' running backs ran for 56 yards on 19 carries (2.9 ypc). An 18-yard run by Wolpin late in the fourth quarter prevented an even uglier number against the Lobos.
Three makes a trend. At the very least, the "it's still early" excuse lost a bit of ammo.
"We didn't run the ball very effectively. We didn't run the ball effectively at all," Boise State head coach Bryan Harsin said Thursday night. "We did some things there at the end, but third down and short yardage, we're just getting hammered, and that needs to end. We've gotta find some ways to run the football on the offensive side. We've gotta be consistent doing that, and we're just not right now."
Boise State's running backs are now averaging 4.0 ypc this season (3.97, to be more precise). Counting sacks, the Broncos have rushed for 3.7 ypc as a team this season. They haven't averaged fewer than 4.0 ypc in a full season since 2003 (also 3.7).
The Broncos have plenty of time to improve those numbers, and Cosart might lift them out of their rushing rut.
The redshirt senior quarterback has played significantly in all three games this season, and he played the entire New Mexico game due to an injury to starter Brett Rypien. Cosart has rushed for a team-high 189 yards on 31 attempts (5.8 ypc) this season.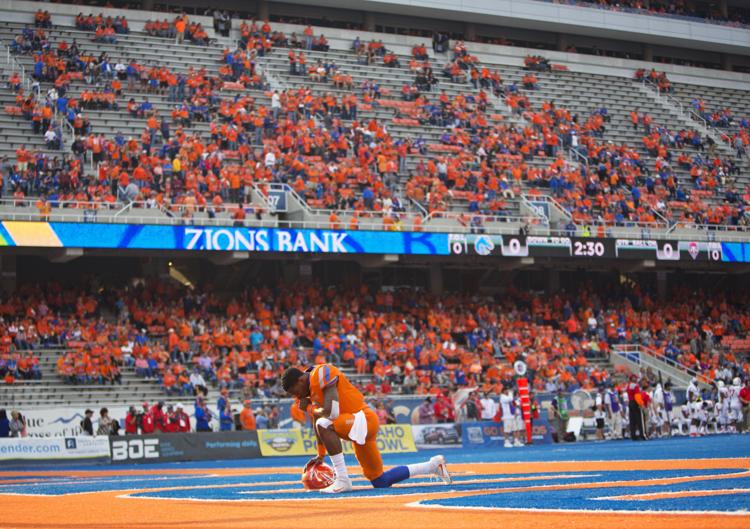 But Cosart's runs are rarely designed. They're usually improvised, last resort scrambles that materialize when the pocket collapses or if he can't find an open receiver. That's not a running game Harsin and company want to rely on.
"Being able to run the ball, that's gonna open up the pass game," Cozart said.
After Thursday's game, Harsin laughed when asked who has been most responsible for the running struggles.
"It's not one thing," he said. "When you run the ball and you run the ball effectively, it takes everybody to do that."
The problem would be so much easier to fix if one area was at fault. Boise State's young offensive line has struggled this season. So have Mattison and Wolpin, who carry the weight of Ajayi, Martin and McNichols on their shoulders. Those running backs don't grow on trees, and all three of them benefitted from solid blocking.
But three makes a trend. The running back factory now has a running back conundrum. The Broncos hope to solve it next Friday at home against Virginia.
"I know the running backs and the o-line are gonna have a chip on their shoulders," Cozart said.