TWIN FALLS — Shortly after moving to Twin Falls and getting into a rental, Heather Lombard and her fiancé started thinking about home ownership.
They'd come to the area from Utah in February. Although the monthly rent payment for her home wasn't as high as it could be, it was still more than Lombard had expected.
"It's kind of a toss-up," she said. "We could buy a house and be paying the same amount or less — or we could rent."
In anticipation of future rent increases, they started browsing the market. In mid-December, they closed on a home with a mortgage payment that's slightly more than their rent. And, Lombard said, she feels like they won't be "throwing money away."
Whether it's rentals or homes, a clear trend is emerging around south-central Idaho: Housing costs are going up.
The U.S. Census Bureau released its 2012-2016 American Communities Survey for counties across the nation.
The report highlights, among other things, the median housing costs for residents in south-central Idaho as well as the percentage of those residents considered to be cost-burdened — with housing payments more than 30 percent of their household income.
When compared with the previous five-year study, showing estimates from 2011 through 2015, median monthly housing costs are up almost across the board. Which means residents are taking a closer look at their options.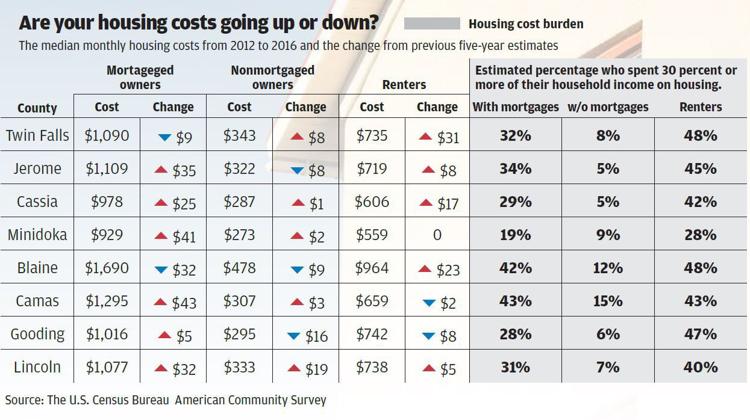 How are rents decided?
Blaine County may have had the highest median rent from 2012 to 2016, but compared to the 2011 to 2015 survey, Twin Falls' rents rose the most in sheer dollars.
At Real Property Management Magic Valley, a software program allows manager Stan Visser to plug in an address and find out what homes and rentals are selling and renting for within a square mile. Based on those results, Visser makes a recommendation for a lease amount to the property owner, who has the final say.
This appears to be a common practice among property management companies. But a rise in property taxes also likely factors into owners' decisions.
"They're going to try to recoup some of that," Visser said.
Twin Falls County renters were paying about $31 more over the 2012-2016 time period than the previous study showing median rent from 2011 to 2015.
Rents over the past few years have been recovering from the recession, when Visser estimates they dropped 13 to 20 percent. On Thursday, Real Property Management Magic Valley's 300 properties of all sizes were averaging about $800 for monthly rent.
"I think we're fully recovered from the recession, as far as rent goes," he said.
But rent amounts can vary widely depending on where the property is. LaNora Pokorney, property manager for Canyonside Property Management, said owners of newer three-bedroom, two-bathroom rentals near the hospital are often charging $1,575 per month — and getting it.
Elsewhere in town, a similar home might cost around $1,100 per month. The condition of the property is a big factor in determining rent, she said.
But demand — once focused on the north side of town — has become more dispersed in properties throughout Twin Falls, especially since the arrivals of Chobani and Clif Bar.
"We're only looking at a 1 percent vacancy," Pokorney said.
The good news: There is strong interest in rental properties. Over the past year, Canyonside Property Management had 25.7 percent growth in the number of properties it manages.
Visser, too, is seeing more young families come to his company for property management services — though this doesn't necessarily mean there's an increased supply of rentals.
While looking for homes to buy, Lombard said she'd first asked her landlord if she could buy the rental, but he refused to sell.
When she made an offer on a different house, that owner rejected her offer and another buyer's, and decided to lease it out instead.
Even in the more rural counties of Mini-Cassia, oftentimes "people are paying for rent about what they would be paying for a mortgage," Realtor and property manager Teresa Holmes said. But she doesn't think the rents won't rise for much longer, as more people opt for home ownership.
Home prices
Idaho Housing and Finance Association was servicing loans in 2012 for an average home price of about $123,000, Executive Vice President of Homeownership Lending Susan Semba said. In 2017, that average price shot up close to $140,000.
And the market, she said, is tight.
Some people who stayed in their homes during the recession are now beginning to move, and she's seeing more millennials beginning to look at home ownership as an option.
Twin Falls County did, however, see its median mortgage payment drop slightly from the 2011-2015 survey. Visser said he thinks that is probably a reflection of low interest rates.
In Minidoka and Cassia Counties, Holmes has noted a gradual increase in home prices over the past three years, but buyers aren't getting as much instant equity as more urban areas.
"Mini-Cassia is pretty conservative in that we haven't had such an influx that it's driven the prices sky-high, like in other places," Holmes said.
She figures the increase in the median mortgage payment for Mini-Cassia has more to do with larger homes being built as people have more disposable income. Those can affect statistics more drastically in rural areas.
The need for affordable
In many south-central Idaho counties, nearly half of renters are cost-burdened. And as the market rises, it's putting more pressure on people to be able to afford their housing, Semba said.
Which means they're turning more toward less expensive options.
Idaho as a whole is seeing historically low vacancy rates in affordable housing rentals, said Cory Phelps, the vice president of project finance for the Idaho Housing and Finance Association.
Affordable housing projects typically target people making 60 percent of the area median income or lower.
Twin Falls and Burley have both seen new affordable rental projects in the past several years. But it's obviously not enough.
"There's more demand than we've got supply," Phelps said.
Idaho Housing and Finance offers low-interest loans for people who qualify for assistance.
The number of those people is rising sharply. In Twin Falls County, the association financed 388 homes in 2015, 500 homes in 2016 and 700 homes already in 2017.
"The rental market is getting really tight and expensive in the Twin Falls area," Semba said. "So that's why people are looking to buy homes more."