BURLEY — At eight years old, Christine Rowley found a flair for fashion and she began sewing and designing her own Barbie doll clothes.
Today, the busy registered nurse case manager and mother spends her spare time making time-period correct clothing and costumes for plays or other special occasions.
"I don't like to be just sitting around and not doing something," the Burley resident said as she paused for a moment in an easy chair in the middle of her sewing room lined with shelves, drawers and totes full of material and sewing notions– all neatly organized, labeled and recorded in a book. "I call it organized chaos. Sewing is what I do to unwind. For some people sewing raises their blood pressure, but for me, it lowers it."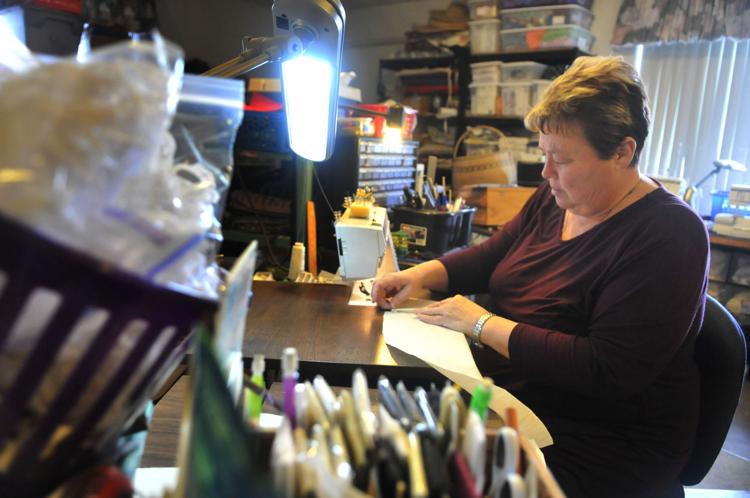 The organization, Rowley said, comes from being frugal with supplies and finding what she needs, when she needs it.
She has 14 sewing machines, 12 serger machines and few that she keeps around just for parts.
"Yes, I know I can only use one at a time, but I put different colored thread in them and then I can work on multiple things without changing thread," she said.
She also makes multiples of an item at a time, putting them together assembly-line fashion with her two daughters, son and her mother, Eva Meline-Lloyd of Elba.
Rowley is one of Meline-Loyd's six daughters but the only one who took to sewing.
"I'm really proud of her," Eva Meline-Lloyd said. "Some of the dance costumes that she has made would blow your mind away."
Meline-Lloyd started sewing when she was 6 years old and made all of her own clothes on a treadle sewing machine until she was 19 years old.
"She came by it naturally," Meline-Lloyd said.
By the time Rowley was in ninth grade she was out-sewing everyone in her home economics classes.
"I was sewing a shirt with collars and buttons and they were making pillowcases and bags," Rowley said.
A history buff, she loves to research time periods for clothing style and detail online, in books and by talking with people.
Her interest lies in Renaissance through the 1800s.
She sews from 200 to 500 clothing items a year, many of which are sold through her business, Christine Unique Custom Apparel.
The style she sells the most is the overdress, which was worn with some modifications over several centuries. She's made more than 800 of them.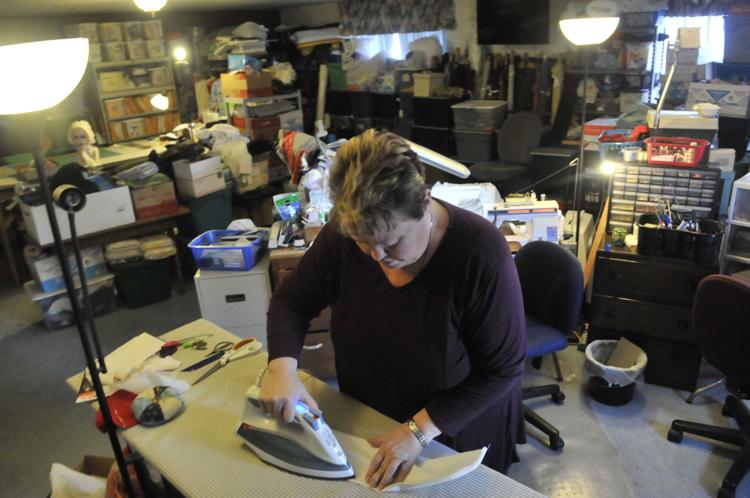 "It is definitely the most popular style, she said. "It's comfortable and flattering to all body types."
Her personal favorite is Colonial clothing with its big bright flowers, she said.
She is also a fan of Elizabethan clothing.
"They used a lot of velvets and satins encrusted with pearls," she said.
Part of the experience of creating clothing for her is seeing the colors of the prints along with the tactile quality of the fabrics.
"That's why online shopping for fabric is so hard," she said. "You can't touch it."
Thirty years ago, Rowley became involved with the Oregon Trail Muzzle Loaders, a group of Magic Valley history enthusiasts who get together and reenact the life of the early settlers.
Many of her clothing items come from that era, and she loads her goods into a trailer and takes them to the group's rendezvous where she sets up shop as an old-time storekeeper.
She also sews costumes for local theater productions like "Scrooge" and "The Wizard of Oz," where she created the flying monkey costumes and the costumes for the witch's guards.
"I tell them to bring me a picture, and I can usually create it," Rowley said. She also designs her own patterns or can use parts of two or three existing ones.
She also sews her share of Halloween costumes along with altering prom and wedding dresses and other specialty pieces.
Rowley made a Renaissance dress and an oriental outfit as Halloween costumes for Kristi Pugh.
"She is absolutely amazing. All of her work is very detailed, and never does a stitch fall out," Pugh said.
Unlike the $65 "Pirates of the Caribbean" Elizabeth Swann outfit she purchased this year.
"I pulled it out of the package and a button literally flew off," she said. "I thought for that much money it would have been made decently."
It was so poorly made she took it to Rowley, for reconstruction.
For some people, money is no object. The most expensive dress Rowley has sewn was a "Gone with the Wind" curtain dress for $500 ordered by a Utah man to surprise his wife.
"There were 24 yards of material in that dress and it had six hoop skirts," Rowley said. "Sometimes, it's all about seeing someone happy."