HEYBURN — When a student doesn't fit well in a traditional school, has a scrape with the law, has medical or learning challenges or becomes a teen parent, they might end up at an alternative high school.
Regardless of the circumstances that bring them to the school, the school is charged with addressing their needs and catching them up with the goal of getting them a diploma.
Seven years ago, Mt. Harrison Junior/Senior High School, which has 175 students in grades 9-12, ranked in the state's bottom three schools.
In the past three years the school has nearly doubled its graduation rate, bringing it from 15 percent in 2014-2015 to an expected 27 percent in 2016-2017. The state has not released final rates for the 2016-2017 year.
The rates, which are based on a 4-year cohort, can be appealed by the school each year and then reconciled by the state to capture those who graduate over the summer or those who transferred to another school.
"We have 175 stories at this school," Counselor Shanna Lindsay said. "The perception is that only kids in trouble come here. It's kind of like you have a black eye coming out of the gate."
Principal Kelly Arritt said the school has very few discipline problems.
"We've got a lot of great kids here that have struggles and challenges in life," Arritt said.
Finding focus
Senior Mandi Foote chose to attend Mt. Harrison after a couple of days as a freshman at Minico High School left her feeling overwhelmed.
Foote was aware of the school because her sister had attended.
"All of the hustle and bustle at Minico was just too much," Foote said. "It was easier for me coming to a smaller school."
Foote said she felt frustrated at the larger school and she wasn't getting what she needed to succeed. One difference between the schools, she said, is longer class periods at Mt. Harrison.
"Teachers have time to explain more," she said. "And you pay more attention instead of just rushing through your day."
She also likes the respect that she feels from teachers at the alternative school and that she's talked to like an adult.
Part of the bump in graduation rates, Arritt said, was due to a $1.36 million grant the school received five years ago. The grant allowed the school to invest heavily in technology and software programs to help the students be successful.
Lindsay said in the past few years the school also shifted to requiring students to meet state standards and using quarter semesters rather than trimesters. The quarter semesters allow the students to make up classes more rapidly when they are behind.
"We were in big trouble," Lindsay said. "At first it was just triage."
It took three to four years for change to take hold and to start seeing the progress. But the extra funding paid for remedial programs to help students patch holes in reading and math — and that made the most difference, she said.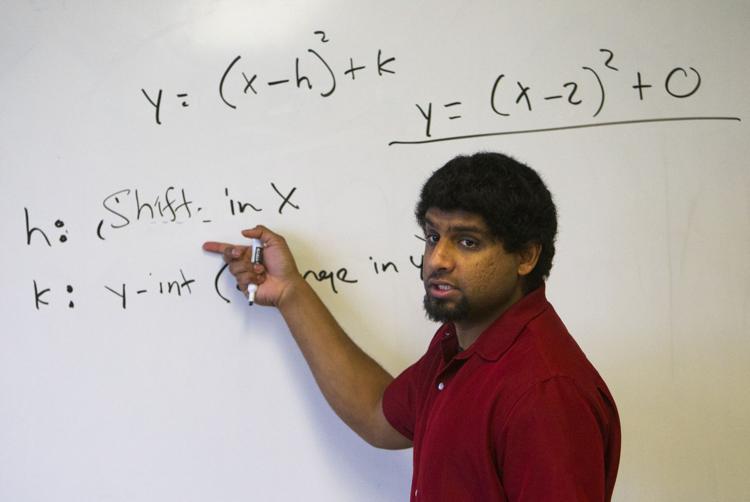 The school also has a daycare and offers a 3 to 7 p.m. session, which helps meet student needs.
"Graduation rates are hard to measure for alternative schools," Eva Craner, Twin Falls School District spokeswoman, wrote in an email to the Times-News. "It measures a cohort of students who enter high school as freshmen and graduate within four years."
One of the benefits of having an alternative school is that it provides opportunities to students to earn their diploma who don't make that four-year cut off and are considered non-completers by the state, she said.
Mt. Harrison was also recently chosen as one of two Magic Valley schools, along with Wendell Middle School, to participate in a one-year state pilot program aimed at helping the schools be successful.
The Idaho State Department of Education program will help seven schools with low student test scores and high poverty rates create an improvement plan to find them the support they need to help their students, and then put the plan in action.
Finding a better fit
Lead Teacher Candi Hurst said meeting student need has been instrumental in the school's progress.
"Having access to the technology is extremely important right now," Hurst said.
But, face-to-face learning is also important, she said.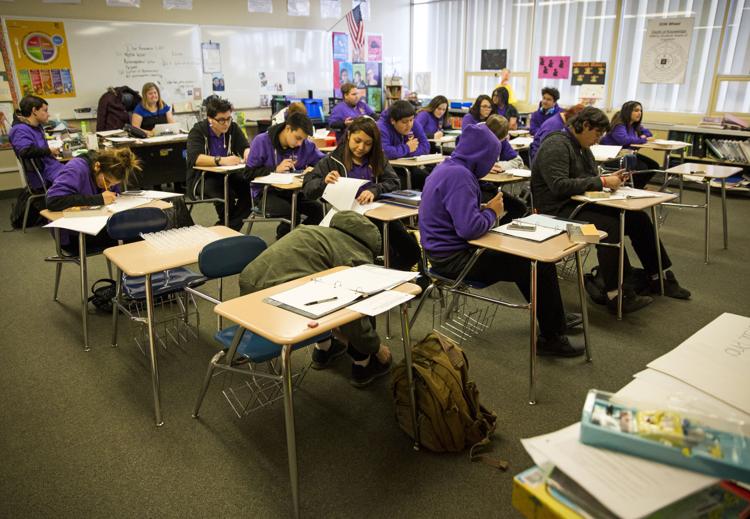 Better student tracking also helped boost the graduation rate along with better family engagement, which depends on teachers to implement.
"I have to give the teachers credit on that," she said.
The school is able to assess a student's need and develop programs specifically to address those needs, she said.
Senior Rhydan Juno, started at Mt. Harrison in October of his freshman year.
"I had failing grades in class. I was putting off doing assignments and not following class instruction," Juno said. "I'd probably been doing the same thing since the third grade."
When Juno was six years old he had two brain surgeries for cysts, which made learning a challenge. During his time at Mt. Harrison he's been on the honor roll during many quarters and he's been accepted at the University of Idaho. His plans include serving in the military and then going to college to earn his bachelor's degree in information technology.
"Before I got to this school I was not interested in going to school at all," he said. "Now I want to go to college instead of working in a factory job."