BURLEY — Cassia County School District Superintendent Gaylen Smyer had the early markings of a leader. After 39 years as an agriculture science teacher, director of Cassia Regional Technical Center and school district superintendent, he will spend his last day at the district on June 29.
"It's both exciting and scary," said Smyer, adding that he doesn't have any post-retirement plans yet. "I don't know what the future holds for me, but hopefully I can contribute in meaningful ways. This is the first time since I was 16 years old that I don't have definite plans."
Smyer grew up in Declo and graduated from Declo High School, where he was active in the agriculture program and FFA.
He remembers his former Declo agriculture teacher Richard Garrard telling the class that community service is the rent paid for the space they take up.
Smyer took it heart and it became his philosophy.
"He was an outstanding ag student," Garrard said. "He was the FFA president his senior year. He could have been senior class president, but he chose to be FFA president instead."
Smyer taught agriculture science at Burley High School, was the vocational coordinator for the district and provided the vision to launch the technical center after the district's passage of the 1996 construction bond. For his work, he was named the center's first director, and also taught automated manufacturing classes at the center.
Each year, the center took examples of the students' best work to the Idaho Legislature to showcase what was being accomplished at the school. He measured his success, he said, through the success of his students and teachers.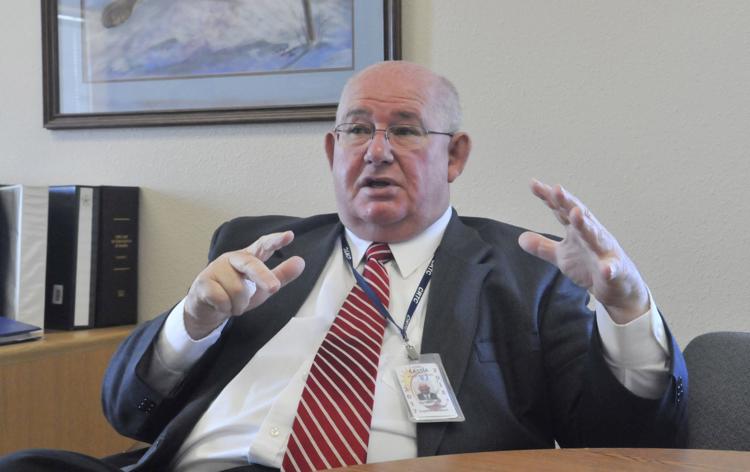 He also worked to help secure grants to develop of the center's programs.
Tom Schmitt, who teaches game-app programming at the center, said Smyer hired him.
"He was fun to work with and brought everyone together," Schmitt said. "He was instrumental in keeping a good comradery going."
During his 11 years as school district superintendent, he helped the district weather several storms as state money shrunk, teachers were charged with crimes and an architect underestimated construction costs, resulting in a $14 million shortage for school upgrades.
"You can't always control what happens, but you can control how you react to it. I believe in accountability, and then you learn from your mistakes," Smyer said. "We tried to bounce back from those things and put procedures and protocol in place to protect students and teachers."
During the economic downturn, the district reduced staff and took pay cuts.
"Other than shortening the school year we were able to get by without taking anything else away from students," Smyer said.
But mostly, he said, he has fond memories of his time with the district and few regrets.
"My advice to someone coming to the district would be to immerse themselves in the community cultures and understand the individual needs in each community. You have to be able to pull those communities together, because that's what gives us strength. That's the unity part of community," Smyer said. "I had the benefit of growing up here, so I understood the communities."