RUPERT — Donations from local organizations are helping Rupert cops solve crimes faster with the help of a handheld device.
The UFED Touch2 by Cellebrite allows officers in the field to get evidence off of cellphones or other electronic devices. So far, it's been used for insurance fraud, sex crimes against children and homicide cases.
The police department got $2,700 in donations and combined with $300 in drug forfeiture money, it was enough to afford an upgrade from a used model the Idaho Attorney General's Office gave to the department. The office offered the device to Rupert police because of the work it performs for the AG's task force on internet crimes against children.
"This is something that small agencies rarely get access to," Police Chief James Wardle said.
Only a few departments in the state have the equipment and Rupert police share it with any law enforcement agency in the region. Detective Jeff McEwen said the department has helped out nine other agencies with the Touch2 since May.
"It is a fantastic little device," Wardle said. "And it saved one insurance company a lot of money."
The department used the device along with Google Earth to provide evidence that led to a conviction in the insurance fraud case, saving the company $60,000, Wardle said.
Prior to using the device, the office had to send the phones or devices to the AG's Office or to the Federal Bureau of Investigations for processing.
"I just love it," said Tammy Hanks, representing Minidoka Memorial Hospital Healthcare Foundation, which was one of the donors. "It is fantastic. Anything that makes our community safer is well worth the money spent."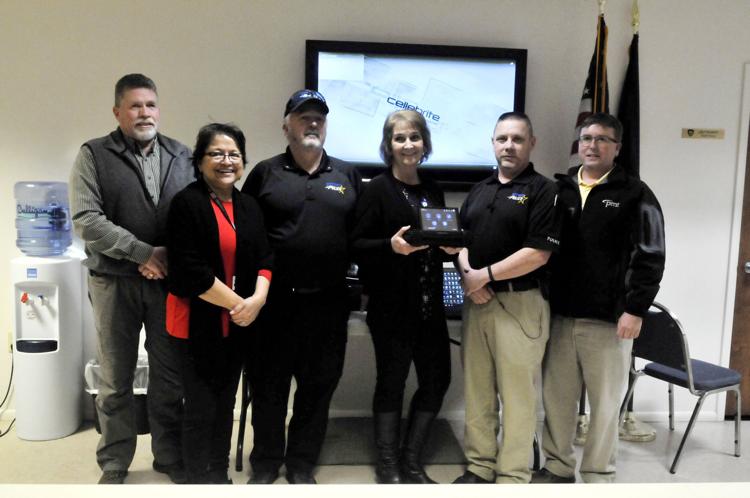 McEwen said the downside to the AG's gift was because it is an older model the company will no longer service it after June. The upgrade will allow the department to continue using the technology.
The equipment allows the officers to gain access to most devices and extract phone logs, photographs, text messages and other information from them. The longest it took to "crack a phone" was four days, but most are easier, McEwen said. The faster detectives can obtain evidence in a case the more likely they will be to solve it, he said.
The agency is still required to get a search warrant when using the Touch2. It walks the officer through the extraction and provides a report that lists the information available so they don't waste time going through unneeded information.
Project Mutual Telephone and MMH's Healthcare Foundation both donated $1,200 and the Rupert Kiwanis chipped in $300. The yearly license for the device costs $3,600.