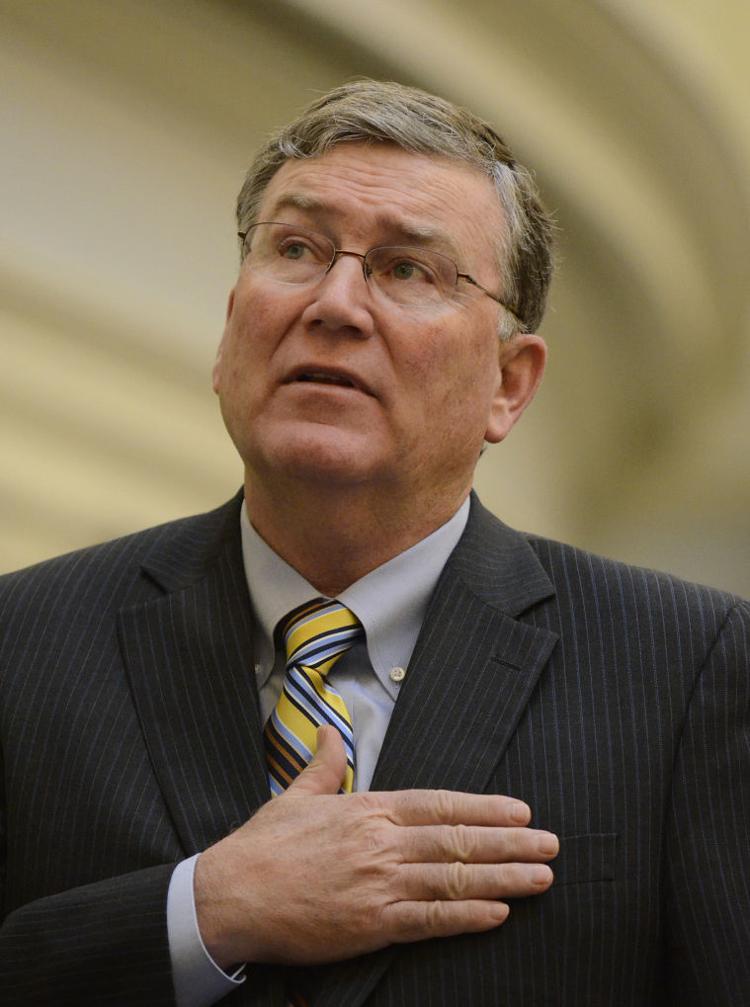 This appeared in the Idaho Press-Tribune:
As veteran members of the Idaho Legislature will say, there are two times when serving in the Statehouse is the most challenging: when the state is in an economic recession or when there's a fat surplus. Recessions leave no real options other than to cut spending, while a surplus opens the floodgates to ideas.
Gov. Butch Otter and Rep. Brent Crane of Nampa, the House assistant majority leader, have lived through the best and worst of times during their political careers. But there are distinct differences in how the two have responded to the ebb and flow of state revenues.
Otter has shown the ability to adjust his thought pattern according to the changing times; Crane has not. But as legislators ponder what to do with a projected $139 million revenue surplus, Otter and Crane are setting the stage for an interesting legislative session next year.
Crane told reporters last week that House Republicans are looking to tax cuts "the first thing out of the box."
"We feel like it's time that we give some of the money back to the citizens that have been paying the bill," he said in an article written by the Spokesman-Review's Betsy Russell. He talked about efforts to buy down the tax rate "a tenth at a time," further cuts in the personal property tax which businesses pay for inventory and increasing the property tax exemption.
Otter has said tax cuts are not on his radar and that his primary focus would be in education — which in our view is the right priority. Still, there are some House members who think taxes should be reduced and no doubt welcome Crane's comments. They'll be making plenty of noise about the issue, with encouragement from the conservative-based Idaho Freedom Foundation. So the political battle looms.
Otter and Crane came into their respective offices during the most trying of economic times — when the state's economy was tanking and state revenues were falling. Otter, with the help of legislators such as Crane, did the best that could be done during those trying times. Funding for public schools was slashed, and higher education was hardly an after-thought. Some healthcare programs were cut drastically or eliminated entirely. Roads and bridges were crumbling before our eyes, and Otter couldn't even get through a 2-cent per gallon fuel tax to fund the roads.
But times have changed for the better, and Otter has adjusted accordingly — starting with a stronger commitment toward education. In his eyes, education holds the key to economic recovery and the filling of thousands of high-paying jobs that remain vacant because workers lack the skills that employers need.
Speaking at last week's Nampa Chamber of Commerce legislative luncheon, Dwight Johnson, state administrator for career and technical education, said there will be an estimated 49,000-worker shortfall in skilled workers in Idaho.
At the same luncheon, House Speaker Scott Bedke, R-Oakley, spoke philosophically about why you get what you get with a Republican-controlled Legislature: Conservative lawmakers, rather than just doling out money, look for the return on investment before committing to spending. When it comes to Crane's proposal to cut taxes, apparently simply for the sake of cutting taxes, we fail to see how he makes the argument for a return on investment.
If Crane really is serious about cutting taxes, we suggest he bolster state funding of public education and let our school districts wean themselves off supplemental levies. Statewide, school district taxpayers are taxing themselves about $188 million collectively. Taxpayers have agreed to those tax increases over the past several years because they recognized that the education funding coming from the state was not sufficient to provide an adequate return on investment. So before we start talking about modest tax cuts at the state level, let's work on getting rid of those supplemental levies.
As much progress that Otter has made in recent years, Idaho is at only the 2009 level of funding for education — which is hardly an impressive benchmark. A $139 million surplus won't push Idaho to 2017 levels, but it would help. And it could help give a needed boost to programs that were cut back during the recession.
It also could allow Idaho to put more money into reserve accounts — which was done, amid criticism, before the recession and ended up saving the state from a financial hurricane during the recession.
Bedke points out that Idaho was able to weather the recession at all because, in part, the state pulled out about $400 million in savings to patch holes in the budget.
Rather than cut taxes, we would rather see the state continue to bolster rainy-day funds in preparation for the next monsoon.
We haven't even touched on the subject of transportation needs, which as well has been short-changed and could still use an infusion of well-placed government spending. Has Interstate 84 in Canyon County gotten better yet?
Studies, including those from the Idaho State Tax Commission, itself, show Idaho's state and local tax burden among the lowest in the country, among the lowest in the West region and among the "fairest" in the country, meaning the combination of sales, property, income and corporate taxes doesn't burden any one taxpaying group disproportionately.
Further, Idaho has one of the fastest-growing economies — with the current tax structure.
We have to ask, with such high marks in terms of rate and fairness, why the push to fix what ain't broke?
Ten years ago, Crane campaigned as a hardline fiscal conservative, and he has lived up to his end of the bargain — voting for the hard cuts that needed to be made during the recession. But he would be no less of a conservative by allowing the state to catch up a bit now that a more generous revenue picture is in place.
"Conservatism" is not a bad word in politics, especially Idaho politics. But as Otter and the likes of Bedke have shown, being "conservative" also means being practical and making smart investments that will yield a high rate of return. Areas such as education, transportation, workforce training and mental health clinics have a proven record of high rates of return. Now is not the time to starve them.