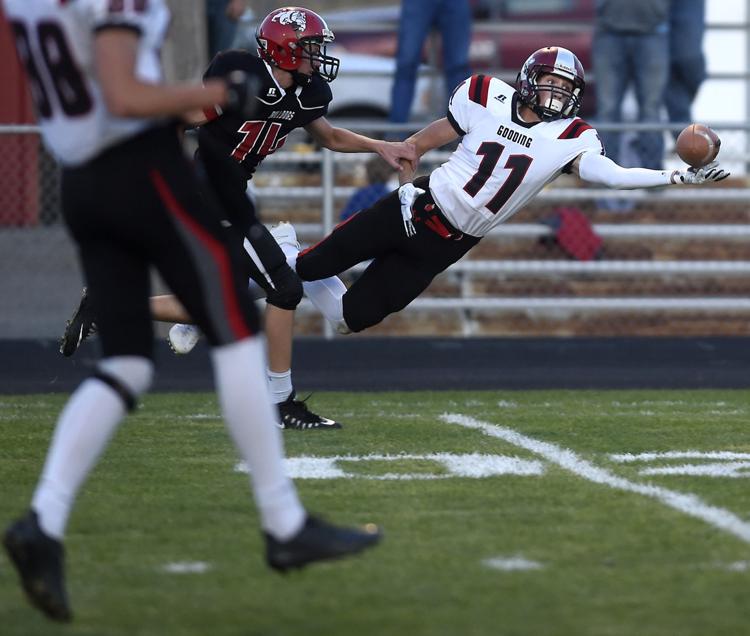 The high school state football semifinals begin Friday, and they include five District 4 teams. Below are the Times-News' previews for every local team's matchup.
4A: Skyview (10-0) at Minico (8-2), Friday at 7 p.m.
Minico tore through the Great Basin Conference this year and has twice defeated Century, including last week in the state quarterfinals. But the Spartans will meet their greatest challenge this Friday.
Skyview is the only undefeated team in 4A right now, and has topped the 4A statewide media poll since week one. The Hawks average more than 470 yards a game, according to season statistics provided by the Idaho Statesman. Most of those yards have come through the air, with junior quarterback Wyatt Storer throwing for about 3,000 yards and 38 touchdowns on the season thus far.
Seeing as Minico's toughest task last week was preventing the pass, giving up both touchdowns to Century through the air, this could be trouble. Minico head coach Tim Perrigot said preparing his defense for an "explosive" Skyview offense comes down to trusting the process.
"The kids have to feel comfortable with coverages and calls," he said. "Sometimes you're gonna get beat by a better athlete, but we've got to stay focused and trust our game plan."
Skyview's defense has allowed more than 250 yards a game but also has forced 19 turnovers. Minico will ride its strong rush game, Perrigot said, but he can't rely on running backs Larry Vega and Colter May to do all the work.
"The best football game you can play is one where you're balanced with passing and rushing," he said. "Fortunately, for us last week we were able to do that, and hopefully we can on Friday, as well."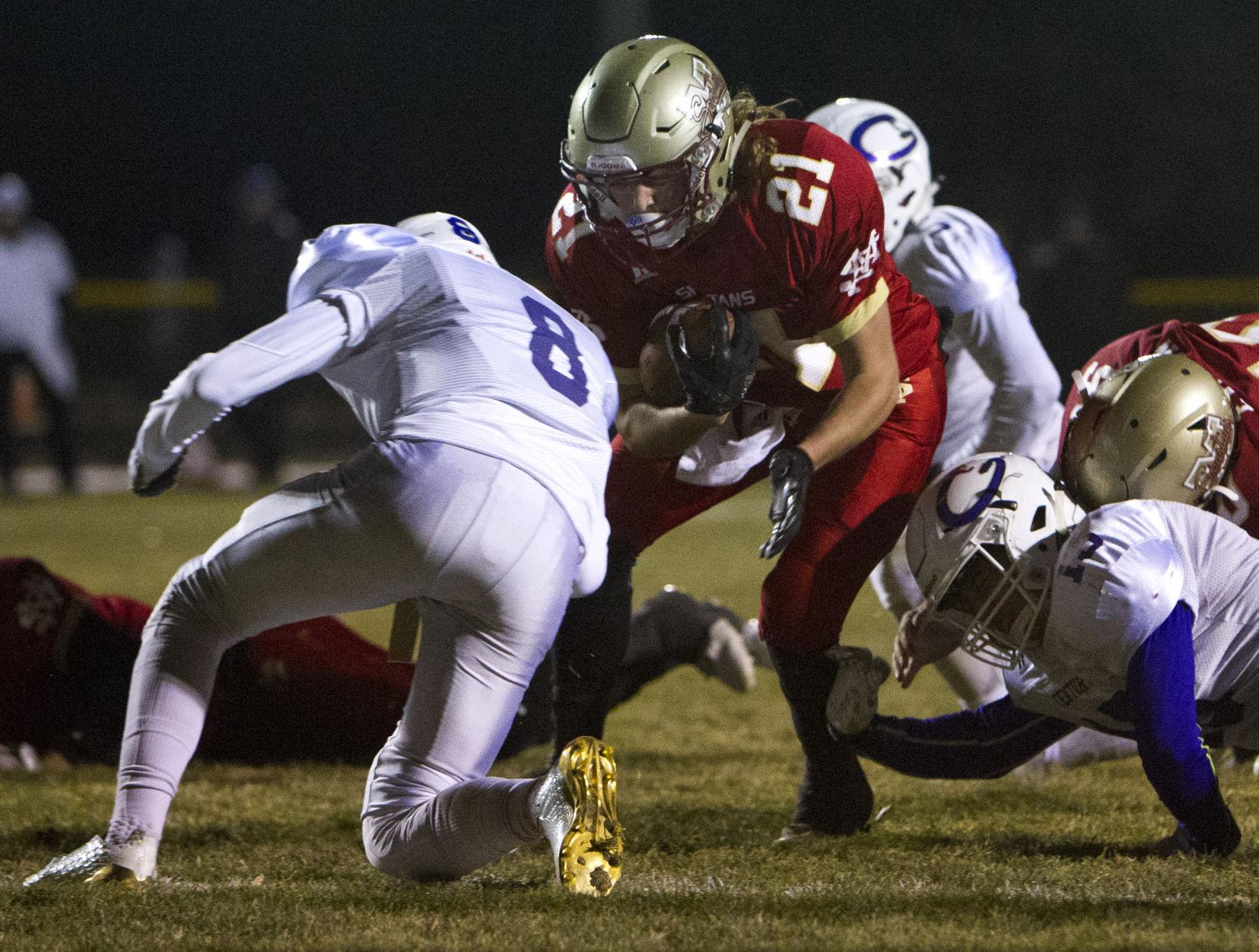 One big benefit for Minico: homefield advantage. The Spartans home section was filled last week, and the drive from Nampa to Rupert is not short. Skyview being the favorite gives Minico an advantage, as well, Perrigot said.
"The pressure is on Skyview," he said. "They're the No. 1 team. They're undefeated, and I think that's great for us. We're not afraid of them, and we're going to play our best football game."
3A: Snake River (6-3) vs. Gooding (9-1), Saturday at 2:45 p.m. (Holt Arena)
After letting its guard down against Kellogg and squeaking out a 21-20 win last week, Gooding is hoping to get back in form for its semifinal matchup against the Panthers.
The Senators are dealing with a few key injuries, some definite and some questionable. Linebacker Sam Funkhouser suffered a season-ending injury weeks ago, running back Mike Needham didn't suit up for last week's game and running back Cade Morris went down late in the Kellogg game.
Gooding still has talent in the reserves, a group that has gotten experience thanks to a handful of blowouts this season. But Gooding head coach Cameron Andersen said the injuries will be a factor on Saturday.
"Anyone looking at (Snake River) thinking that we're going to boat race them with the injuries we have, they just don't know what they're talking about," he said.
Snake River has gone 6-0 since starting the season 0-3. The win streak includes a first-round playoff win against Kimberly, a team that gave Gooding a tough time in September despite falling 28-20.
"They do what they do really well," Andersen said. "They don't get too crazy with their play calling. Any time you can keep kids in a familiar setting, they're going to be more comfortable and perform at a high level."
Andersen said a major factor in this game is the location: Holt Arena, an indoor facility with turf and a loud acoustic setup.
"It's a real thing that you've got to get used to," he said. "It gets so loud in there that you can't get hear sometimes."
After last week's showing, Andersen's message to his team this week has been, "Do what you do."
"Outside perceptions don't bother us," he said. "We can't control how good they are, we can't control what they do. All we can control is who we are and what we do."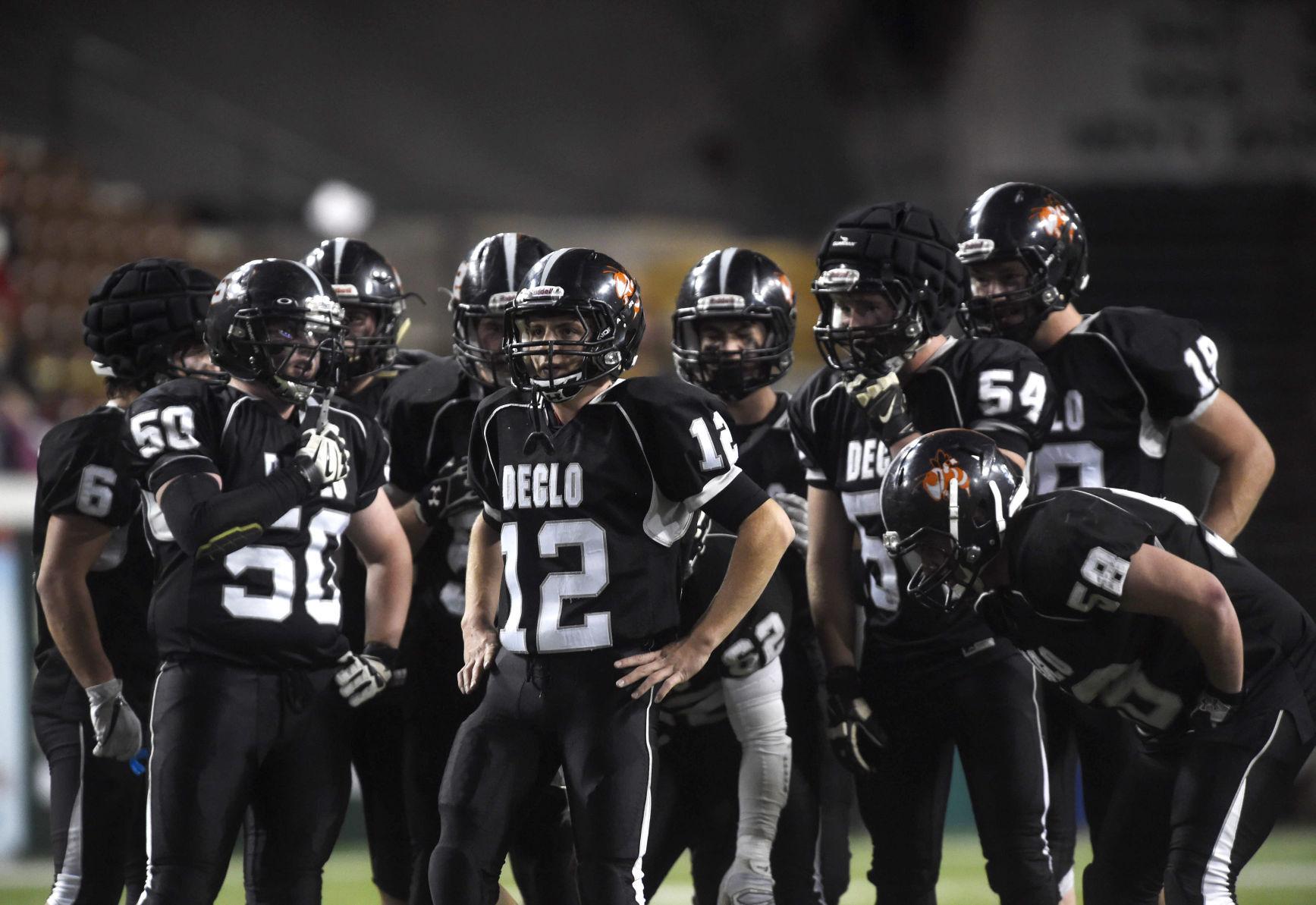 2A: West Side (8-2) vs Declo (11-0), Friday at 8 p.m. (Holt Arena)
Declo came into 2017 as the top-ranked team in 2A, and it hasn't given media voters many doubts.
The Hornets are 11-0 and consistently win by double-digits. The offense averages 47 points a game on the season, led by junior Keegan Duncan, a 6-foot-3, 205-pound running back with game-breaking speed. He's also an elite defensive player.
"He's a difficult matchup for anyone," Declo head coach Kelly Kidd said onthis week's Magic Valley Sports Podcast. "He's difficult to catch up to. He's difficult to tackle. Defensively, he just swarms smaller players."
Declo's defense allows about 16 points per game, and it shut West Side down in a 41-7 road win on Oct. 13. Still, Kidd said Declo was "knocked around" in that game and that West Side will likely put up a strong effort on Friday night.
"I expect a tremendous game this week from West Side," he said. "They're competitive kids, (and) they're well-coached. Teams learn much more from losing than they do from winning."
After last year's 2A state title game that Declo lost 31-8 to St. Maries, Kidd said his team still has a "deep pain" it wants to eradicate.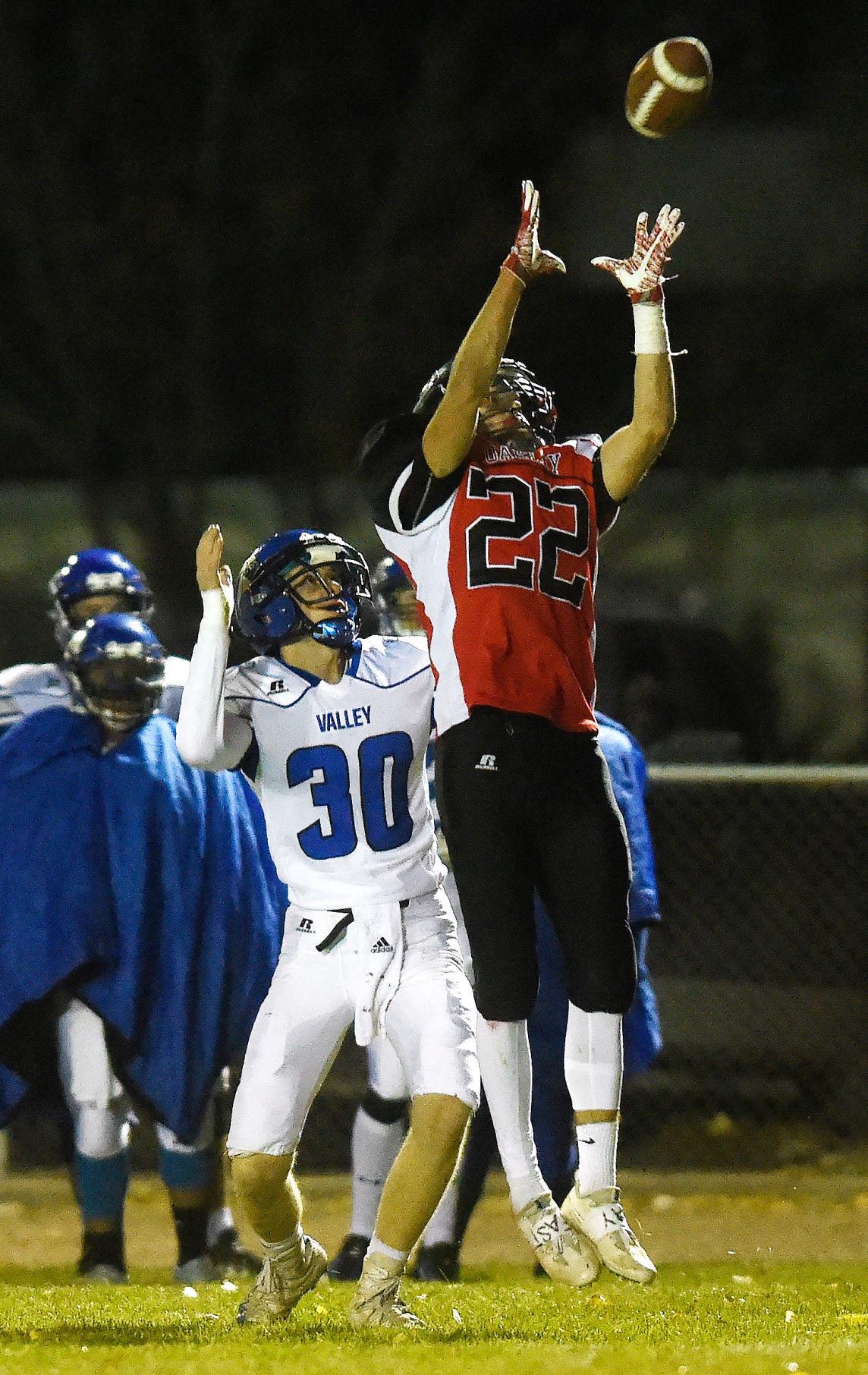 1A Division I: Oakley (8-1) vs. Prairie (9-1), Friday at 8 p.m. MT (Kibbie Dome)
It's a battle between the No. 2 and No. 3 teams in the classification.
The two teams have yet to play one another, but the matchup looks tight on paper. Oakley beat Lapwai 56-12 last week, while Prairie beat Lapwai 52-14 the week before. Oakley has gone 7-0 since a 46-42 loss to rival Raft River, and Prairie has yet to lose a game since a 36-6 season-opening loss to Genesee, the top-ranked 1A-DI team.
One of these two teams has been in the state title game in each of the last three seasons, including a Prairie championship in 2014 and an Oakley loss to Raft River last season. Hornets head coach Kade Craner thinks this year's teams should give the crowd a well-fought game.
"Honestly, we think we matchup well," he said. "We're gonna do what we do and not worry too much about what they may throw at us. We'll stick to our game plan."
One of the major keys of the game will be who establishes the ground game best, Craner said.
"To give ourselves the best chance, we have to run the ball and we have to prevent them from running the ball," he said. "It's very simple, but it's true."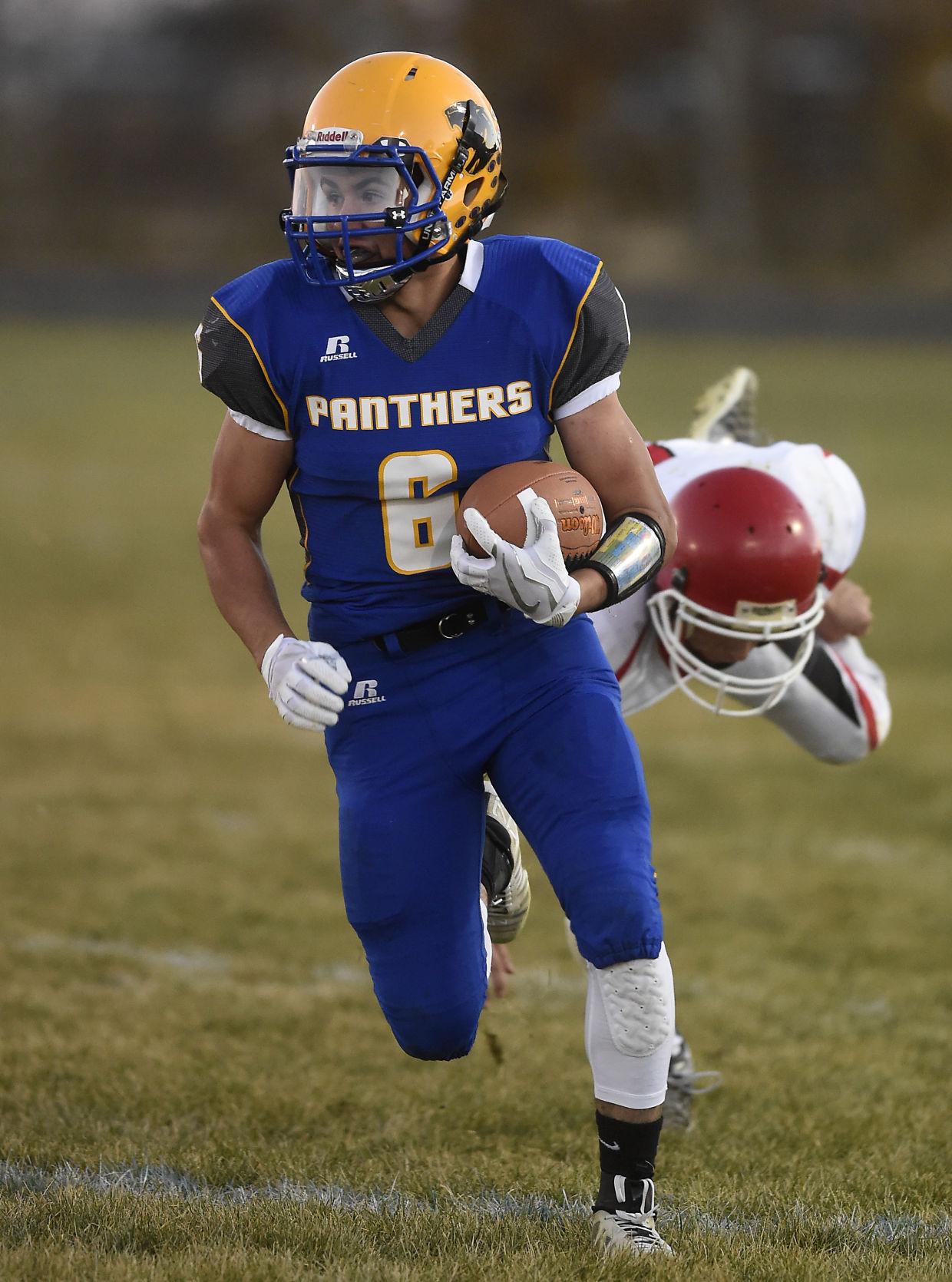 1A Division II: Carey (10-0) vs. Deary (10-0), Saturday at 12 p.m. (Holt Arena)
The Panthers are the other District 4 team that is still undefeated, and they're coming off a 36-16 win against Clark-Watersprings.
That 20-point victory was the second-tightest margin of victory for the Panthers, behind a 16-point win over Dietrich in September. Carey averages a 45.6-point margin of victory per game this season — at least six possessions are required to make up that kind of deficit.
However, Deary is also undefeated, averages a 39-point margin of victory and beat a solid Salmon River team 46-16 last week.
Deary beat Carey two years ago in the semifinals 20-16, when some of the Panthers' current seniors like Kaden Koudelka and Tanner Mecham were still starting games.
How's that for a matchup?
"(The seniors) are calling it a revenge game, but I call it a good matchup," Carey head coach Lane Kirkland said on the Magic Valley Sport Podcast.
Even though Kirkland believes his team has better speed, which will be aided by playing on the turf at Holt Arena, Deary also has a handful of ways to give defenses headaches.
"They've got some good skill players," Kirkland said. "Jalen Kirk is a stallion. We're going to have to handle him, and that quarterback's great, too."
After three consecutive seasons of losing in the semifinals, Kirkland said his team is focused more than ever. He hopes his team can come out the gate scoring like it has all season long.
"I swear this is the fewest amount of offensive plays I've ever called in a season up to this point," he said. "Our kids have just come out so fast and played so well."
Plus, the Panthers can boast something that few other teams in the playoffs can.
"For the first time in three years, in a semifinal game, everybody is 100 percent healthy," he said.