Other View: North Korea's latest missile launch reckless challenge to international isolation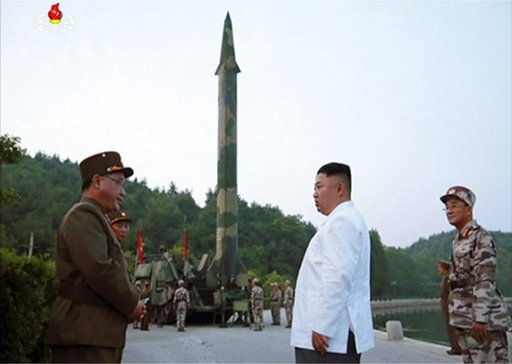 The following editorial appeared in Tuesday's Yomiuri Shimbun:
North Korea's latest missile launch is a reckless challenge against international efforts to contain the isolated nation. Military and diplomatic pressure on the North must be steadily intensified.
North Korea test-fired a short-range ballistic missile, believed to be a Scud, in the direction of the Sea of Japan. After flying about 400 kilometers, the missile fell into Japan's exclusive economic zone in waters about 300 kilometers from the Oki Islands in Shimane Prefecture.
The North has launched missiles in each of three consecutive weeks. North Korea first launched a missile that landed in our nation's EEZ in August last year—the latest missile launch marks the fourth such occasion.
The North's latest action not only violated U.N. Security Council resolutions adopted against the country, but it could have caused damage to fishing boats and civilian aircraft. North Korea's repeated provocations cannot be tolerated.
There are concerns that people may begin to feel North Korean missile launches are an everyday occurrence. "Thorough measures will be taken to secure the safety of the people," Prime Minister Shinzo Abe emphasized. The central government should facilitate even closer consultations with local governments in preparation for unforeseen circumstances, thereby swiftly improving and expanding arrangements aimed at dealing with such a situation, including evacuation drills.
The recent summit meeting of Group of Seven major nations in Taormina, Italy, issued an unprecedentedly strong message urging North Korea to abandon its nuclear and ballistic missile programs. The latest missile launch was likely a bellicose response to the G-7 statement.
A day earlier, North Korean state media trumpeted the country's success in test-firing a "new type" of antiaircraft interceptor missile. With the United States clearly in mind, Kim Jong Un, chairman of the Workers' Party of Korea, dared to say his country should "completely spoil the enemy's wild dream to command the air."
China must step up sanctions
North Korea's futile confrontational stance will only heighten tensions in the region.
In addition to the USS Carl Vinson, a nuclear-powered aircraft carrier that is deployed in waters around the Korean Peninsula, the U.S. military is believed to be sending the USS Ronald Reagan to the region soon. The USS Nimitz is also likely to be dispatched, meaning three U.S. aircraft carriers could temporarily be deployed in the same area. That will likely serve as a deterrent to North Korea's military threat.
One of the problems is China's continual support for North Korea, as shown by its rejection of a proposal for the Security Council to impose additional sanctions on the North. Its actions have made the North all the more impudent.
Chinese State Councilor Yang Jiechi, who oversees his nation's diplomacy, has arrived in Japan for talks with such figures as Foreign Minister Fumio Kishida. He should take positive steps with a view to imposing such effective sanctions on the North as restrictions on its crude oil supply.
Amid the North's successive missile launches, the South Korean administration of President Moon Jae In approved a plan for a private South Korean organization to contact North Korea to extend humanitarian assistance. The planned contact is viewed as an attempt to facilitate an environment for realizing dialogue between the two nations' authorities.
If the plan is aimed at dialogue for the sake of dialogue, it will do nothing to resolve the problems regarding the North's nuclear and missile development. Regarding policies toward North Korea, South Korea is urged to maintain cooperative ties with Japan and the United States.