Float down the river or sail through the air — AWOL ramps up for summer fun in the canyon
TWIN FALLS — Paul Melni jumped at the chance to manage more recreational activities in the Snake River Canyon. But when Zip the Snake had its annual inspection March 21, things didn't go as well as he'd hoped.
Two of the four zip lines failed the inspection. And on top of it, much of the equipment was no longer under warranty.
"I watched as the inspector threw away 32 of these $180 trolleys," Melni said. "I get to invest in buying new ones."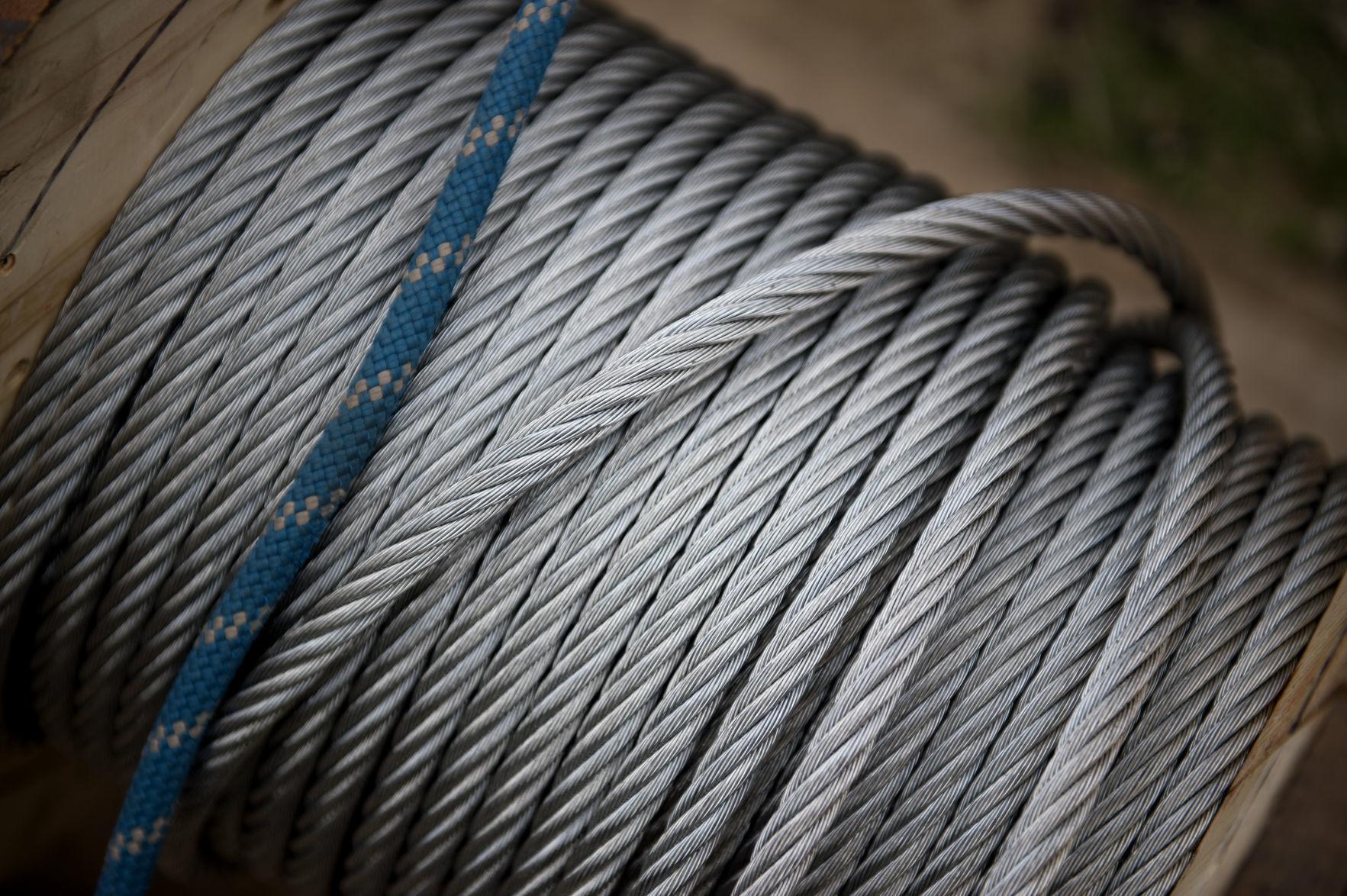 Melni, the owner of AWOL Adventure Sports, was granted a two-year contract to manage the Zip the Snake zip lines near Canyon Springs Golf Course. While he didn't expect to have to sink that much cash into the operation right from the get-go, Melni is still eager to take on the new challenge.
One of his ultimate goals, he said, is to make zip lining and river recreation more accessible and affordable for locals and tourists alike.
"We are dropping the price drastically on this," he said. "We have two super awesome things in the canyon that our locals don't take advantage of. We're going to be offering zip lining and kayaking combos this summer."
The Snake River Canyon has long been a major draw in south-central Idaho for sightseers. But another big lure for tourism is the recreational opportunities within the canyon: kayaking, paddleboarding, rock climbing and zip lining. Southern Idaho Tourism Director Melissa Barry sees water sports in particular as a bright spot for the future of Twin Falls tourism.
"It's going to be kind of the benchmark of our campaign this year," she said. "The paddleboarding and the kayaking is continuously growing."
AWOL Adventure Sports is in its third season of renting watercraft out of Centennial Park. Last year, the vendor sold 8,400 rentals with 60 boats in the Snake River. Melni fully expects this year to hit 10,000 guests.
While kayak rentals have already begun, they won't be in full swing until temperatures reach 65 degrees and above. The zip lines, meanwhile, are scheduled to open by the end of the month with a brand-new management team and set of equipment. And with luck, locals and tourists can also look forward to a pontoon boat tour coming later this summer.
Zip the Snake
A local partnership group called Magic Valley Flight Simulation opened Zip the Snake in 2012. The four zip lines have offered more than 13,000 rides, and two of them were at the end of their life, partner Jody Tatum said. The longest line, which stretches 1,750 feet, was still in good condition.
Up until now, the ownership group had been running zip line operations all on its own. But since all six owners had other businesses and jobs, keeping regular hours down in the canyon was a challenge. One person was handling all the reservations.
"The daily operations were more than we could handle," Tatum said. "It was just too much for one person."
In November, the partners approached AWOL Adventure Sports to see if Melni would be interested in a management contract. He eagerly signed on for two years.
After that initial two-year timeframe, Tatum and her partners have even bigger plans for Zip the Snake. A 3,900-foot line will go in, stretching along the canyon wall from the Perrine Coulee waterfall to a path alongside the Twin Falls Visitor Center.
"It will be pretty close to the longest in the United States," Tatum said.
Zip the Snake has already restored an old stagecoach road at the waterfall, she said, and local history is incorporated into the zip line tour.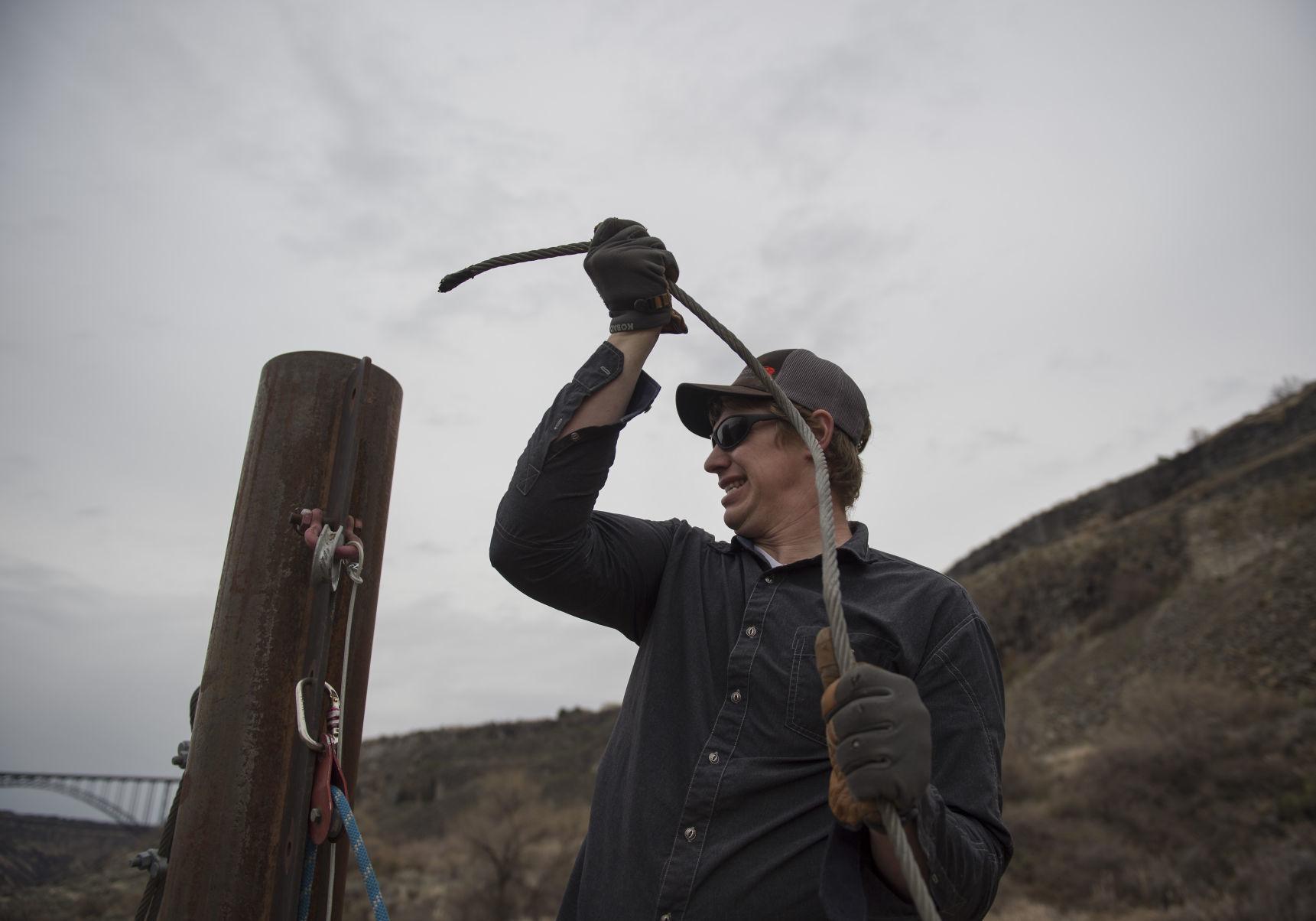 The new equipment Melni brings in this year will make the zip line rides will be faster than before. Melni wants more local residents to take advantage of the zip lines, so he is lowering the price from $65 per person to $48 per person.
"We're going to have locals days throughout the summer," he said.
On these days, locals will have special discounts. All summer long, people who combine the zip line tour with boat rentals will also get a discount.
Typically, it takes a group of people about two hours to ride the four zip lines and learn about local history and geology, Melni said. The zip line will be open year-round, with hot chocolate served during the winter.
Between Memorial Day and Labor Day, walk-up customers are welcome to make arrangements at the business' seasonal kiosk in Centennial Park. Large groups should make reservations.
On the day of their appointment, groups will meet at the Zip the Snake check-in office at the Canyon Springs Golf Course clubhouse.
In the off-season, Zip the Snake will be open seven days a week by reservation. Information: Call 208-420-2065 or visit zipthesnake.com.
Pontoon boat rides
Magic Valley Flight Simulation also saw a need for another way to enjoy the canyon and the river.
"We had people who were not excited about doing the physical stuff," Tatum said. "People will have a chance to get out on the river without being physically challenged."
The company's outfitters license allowed it to bring in a pontoon boat last year. The boat provided some educational tours for up to 16 people at a time — but these guided tours were infrequent.
Melni's main focus right now is getting the zip lines up and running. But if everything runs smoothly, AWOL could begin hosting guided tours down the river to Pillar Falls. Tatum thinks these tours could also include catered meals and fishing.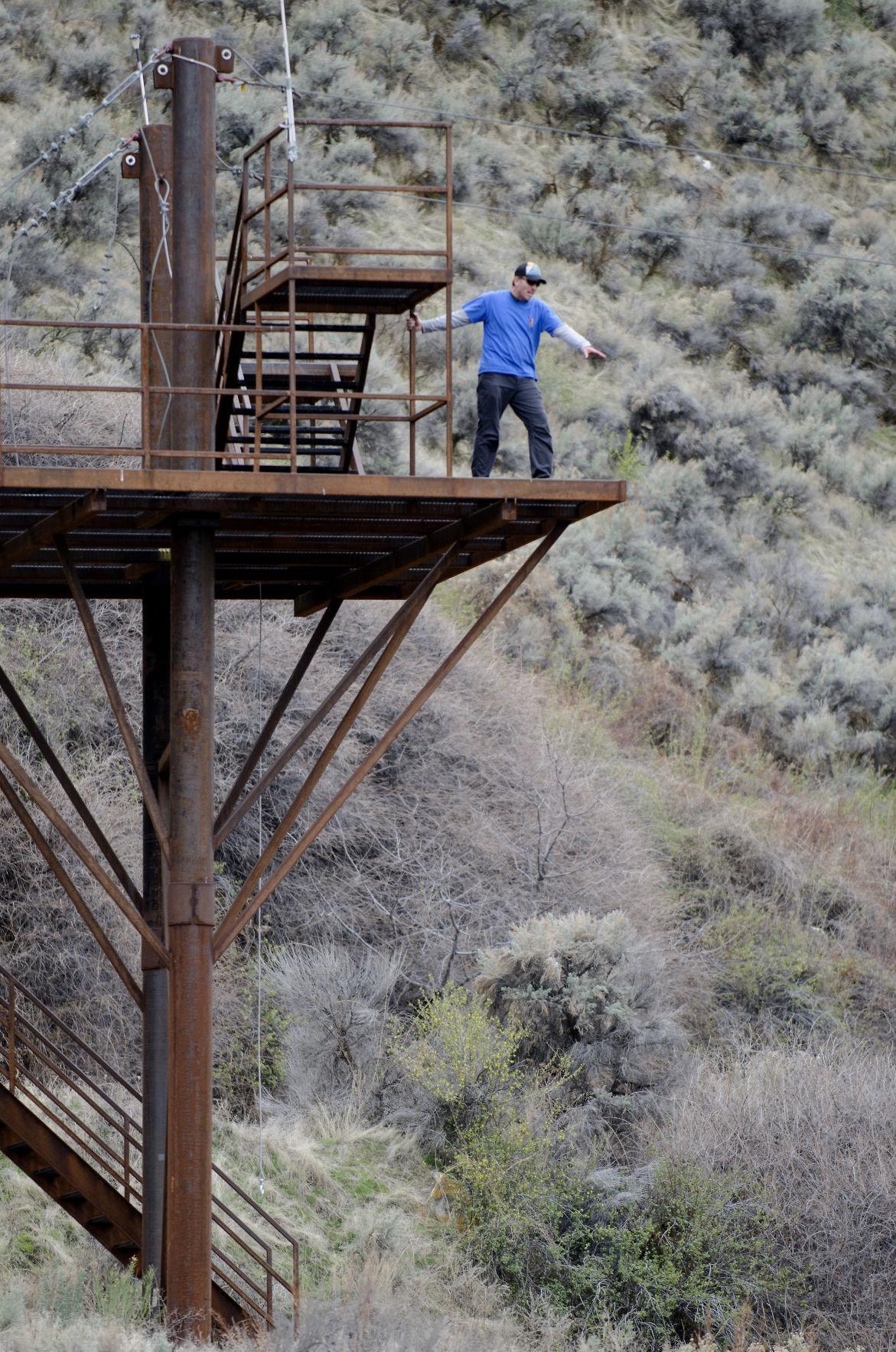 For now, Melni is just trying to stay afloat with getting all his staff hired, trained and certified with the kayaks and zip line. Of AWOL's 19 employees from last year, 12 are returning — and getting raises, he said. The business plans to bring on 25 to 28 full-time employees this summer.
"We think we'll need at least six to eight people just to help with the zip line," Melni said.
Madison Vitek, a sophomore at the University of Idaho, has been working for AWOL since her senior year of high school. The company has had rapid success, she said. Last year, AWOL not only increased its fleet at Centennial Park but opened a dive and kayak shop in town.
Vitek begins her training in May and will help manage the zip line crew over the summer. After Memorial Day, AWOL will be open down in Centennial Park seven days a week.
"We're just such a fun-loving crew and we try to bring joy wherever we can," she said. "It's long hours and it's hot, but I've never had a bad day there."