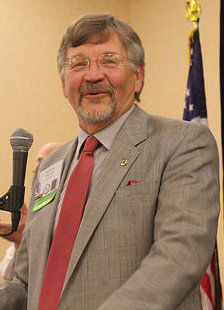 Last Wednesday marked the end of the 2017 Idaho legislative session. While many important items were left off the table and not discussed, Idaho Democrats continued to push the issues that matter most to Idahoans with reasonable and sensible legislation. And finally, you, the Idaho citizen, became the most important part of the conversation again.
Our Idaho Democrats work hard to find partners for responsible, pro-business, pro-family, pro-Idaho policy. When the public shows up in force to affirm their support for issues that Idaho Democrats are championing, it gives moderate Republicans the courage they need to buck their party and do what's right. And when Idaho Democrats and the broader progressive community show up to the Capitol to protest ridiculous and hurtful Republican policies — it makes a difference.
In January, over 6,000 people showed up at the Women's March in Boise. Sister rallies from Sandpoint to Stanley to Idaho Falls brought out thousands more. Idaho's conservation community turned out thousands to say, "Idaho is not for sale." Hundreds showed up to testify against the call for a constitutional convention. Overflow rooms were opened when you, the Idaho citizen, showed support for the most marginalized members of our community. Look in the mirror. You're making change happen.
Idaho Democratic legislators continued to make themselves a meaningful part of the conversation. They brought their own bills, worked with Republicans on others, and provided key votes that helped pass legislation to keep Idaho on track. Even when they were denied a hearing they didn't stop working. Denied a committee hearing on her climate change bill, Rep. Ilana Rubel, D-Boise, held the largest public hearing this session with over 600 people showing up at the Capitol to listen to professionals and experts.
Our legislators worked across the aisle and received bipartisan support for moderate sensible legislation. Rep. Melissa Wintrow, D-Boise, continues to change the conversation about sexual assault reporting in Idaho. Building on legislation that Rep. Wintrow passed last session to address the backlog of untested rape kits in the state, this year's legislation sets statewide standards for the storage and retention of sexual assault kits. This will help address the issue of evidence preservation for sexual assault cases and create a transparent and accessible system for reporting. Twin Falls Police Chief Craig Kingsbury was instrumental in helping pass the bill.
Rep. Rubel worked across the aisle on civil asset forfeiture reform — a huge step forward for fairness and due process rights. The legislation will provide people with more protections from having their property seized without due process. This will help create transparency within law enforcement by creating more public disclosure requirements.
Sen. Grant Burgoyne's ABLE Act (Achieving a Better Life Experience) was one of the Idaho Democratic Caucus' greatest accomplishments this legislative session. Before this legislation, Idahoans who received disability benefits could not save for critical quality-of-life measures like hearing aids, eyeglasses or wheelchair ramps. This helps Idahoans with disabilities become more independent and drastically improves their quality of life.
Idaho Democratic legislators worked hard on policy even if it took all session to get a print hearing. Rep. Sally Toone, D-Gooding, a freshman legislator, brought legislation that would encourage qualified teachers to work in rural school districts through a student loan-forgiveness program. The legislation would offer teachers an incentive to work in eligible rural schools impacted by a shortage of quality educators. Teachers at these schools will be eligible for up to $12,000 in student loan forgiveness over four years of service. Rural school districts struggle every school year to find qualified teachers to fill their classrooms, and this program would help recruit and retain teachers in our communities that need it the most. Rep. Toone will bring this bill back next legislative session.
But time and time again, we see the Idaho Republican Party putting their priorities in the wrong order. Their main assault this year was on your voting rights.
Idaho Republicans tried multiple times to change the rules of the game and restrict access to our democracy. One of the most blatant examples of this was the bill that limited early voting timelines. Idaho's voting laws are some of the least restrictive in the country. We're a shining example to the United States on how open and transparent elections should be run. But the Idaho Republicans had a different vision in mind. They wanted to give county clerk's the ability to restrict your early voting to just one week before Election Day, effectively obstructing counties who are trying to increase voter participation. Senate Democrats were instrumental in killing the bill in committee.
Republicans also tried to politicize your local school boards by moving their voting date to the general election. Not only would this make nonpartisan school board races inherently partisan, but these races have small budgets that would never stack up against the millions spent in statewide races. This move would hurt your children as well. School board members elected in November would take office in January — right in the middle of the school and budget year, which creates huge problems for budget and policy setting. No surprise that they pulled this bill after major public pressure.
So this year, you can see that Idahoans managed to persuade Republicans to do the right thing more often. You, the Idaho citizen, persuaded Republicans to continue to make Idaho more competitive for hiring and retaining teachers. You, the Idaho citizen, moved them to kill the absurd bill that would have exempt state legislators from public records requests. You, the Idaho citizen, urged them to reject the legislation that would have profiled members of your community and made us all less safe. You, the Idaho citizen, convinced them that you are a force to be reckoned with. You, the Idaho citizen, are the best thing about what's happening right now in Idaho politics.