KETCHUM — Workers from San Francisco and Seattle now have a place to plug in when they want to work while spending a few weeks in Sun Valley skiing or mountain biking.
And local entrepreneurs have shared office space where they can brainstorm with other entrepreneurs.
That place is Ketchum Works, an office club that offers a variety of work situations from an office to a desk where someone can plug in a laptop.
The office, which occupies the former US Bank building at 191 Sun Valley Road in Ketchum, is designed to provide flexible workspace and a social environment catering to the needs of the local workforce, second homeowners and vacationers.
At its head is Chip Fisher, who served as vice president for Head Skis before becoming a Ketchum restaurant owner and an organizer for the 2002 Winter Olympics in Salt Lake City, as well the 2009 Special Olympics' World Winter Games held in Sun Valley and Boise.
"Workers are in constant touch, even when on vacation, thanks to the cell phone and high-speed internet," he said. "Big offices with long leases are giving way to shared office environments, as the traditional 9-to-5 office feels stagnant. Shared offices, by contrast, offer mental stimulation and geographical flexibility."
By 2020, freelancers, contract workers and solo entrepreneurs will comprise 40 percent of the U.S. workforce, he added.
"Emerging is the need to network and collaborate on a personal level. People want to engage with others outside their fields. They want to network, collaborate, co-mingle and socialize."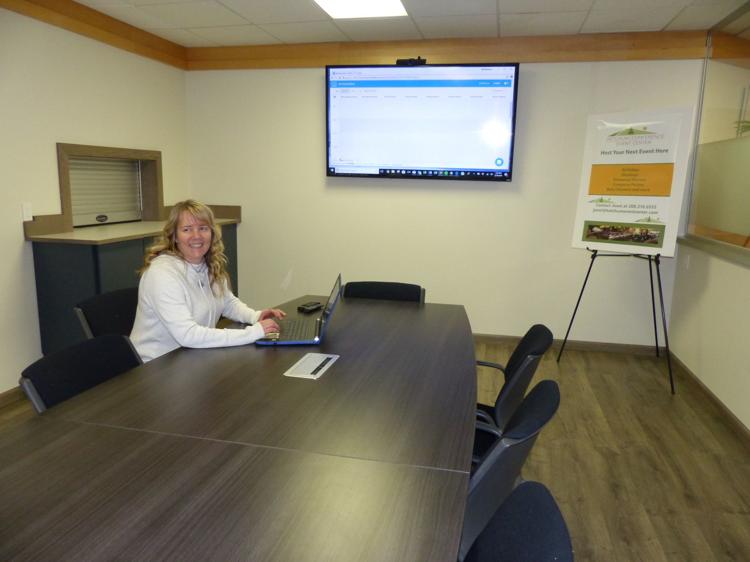 Co-working, as it's called, is trending, growing from 1,130 shared workspaces in 2011 to about 14,000 worldwide today, according to Global Co-Working Survey. Aspen, Chamonix, France, and other ski resorts have co-working spaces. North Lake Tahoe has The Tahoe Mill; South Lake Tahoe, the Tahoe Mountain Lab, and Mammoth Mountain just opened The Fort.
Ketchum Works boasts six office suites, six desks, four cubicles and nine hot desks where workers can plug in from an hour or longer, away from the hubbub of coffee shops. Spaces and meeting rooms can be rented by the hour, day, week, month or year. Hot desks, for instance, go for $20 a day or $75 a week.
Rolling lockable filing cabinets sit against the wall, ready for use by out-of-towners who want to store papers between visits.
Members will have 24/7 access and priority usage of meeting spaces holding up to 16 people. There's a printing and copying room and video conferencing capabilities. There's also a full kitchen stocked with free coffee, popcorn and other snacks, as well as an egg cooker, juicer and large soup kettle boasting the soup du jour.
The nonprofit Wood River Women's Foundation recently leased an office in the facility.
"We've seen a need to have a professional meeting place outside our homes," said Sandra Flattery, one of the members of the 300-plus member philanthropic organization, "and this includes a meeting room and a communal area."
Aimee Christensen, who heads up Christensen Global Strategies and Sun Valley Institute, said she's excited about the opportunity Ketchum Works provides, as she has enjoyed shared workspaces in other parts of the country.
"Shared space enables chance meetings that can lead to unexpected opportunities," she said. "And I hope it will attract others seeking to make a difference in our community and beyond, making it easier for us to collaborate and increasing our impact."