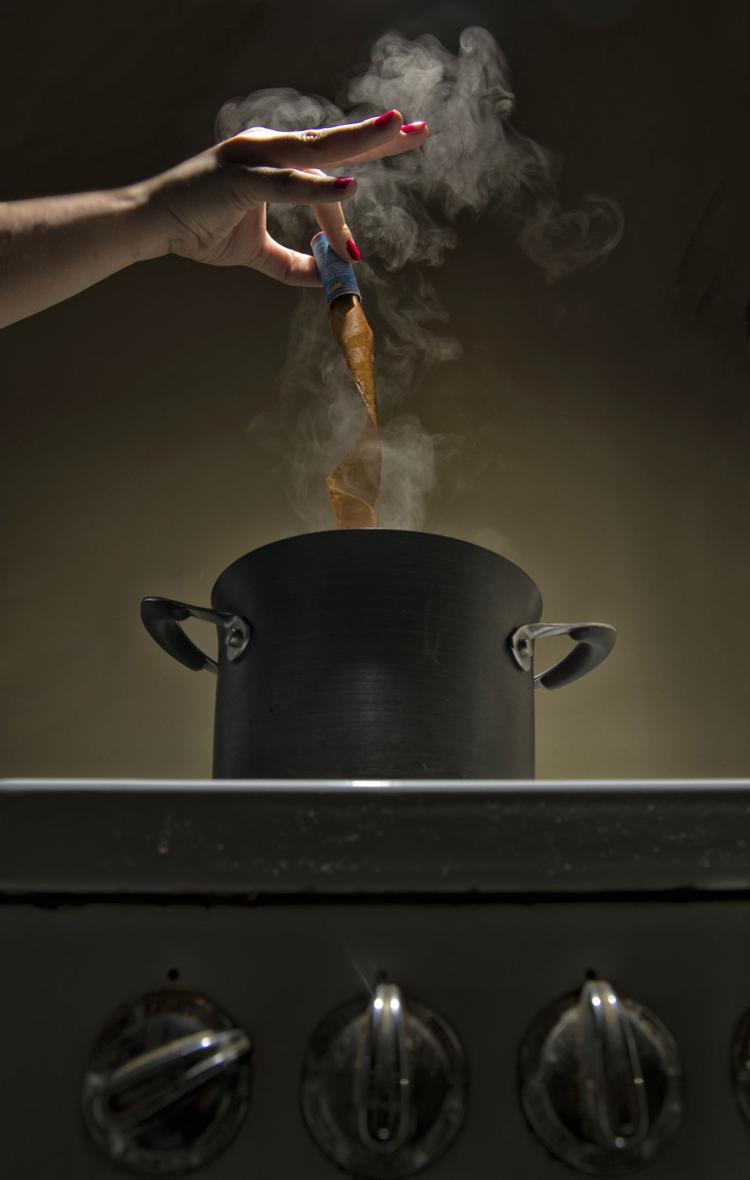 Model or photographer? Model, I replied. I had about two hours left on my timecard before I was on overtime and didn't want to concern myself with a photo illustration. Photographer Pat Sutphin handed me a bottle of nail polish and gloated, "hope you've got nail polish remover bud."
I back peddled. I had a basketball game in two hours and I wasn't about to go with red nail polish on.
"Of course I don't have nail polish remover, I'm an old, single man" I said, surly. "I'm sure you have nicer hands anyhow."
As Pat began to paint his fingernails I threw on a pot of water to boil. He tells me he had to get special permission from his daughter Ava to use her Disney princess polish. We shared a laugh as I thought how different our lives were, yet here we are coming together as two photographers trying our hand at making a conceptual photograph over my seemingly 100-year-old stove.
I asked Pat how he wanted to light the scene, and he stared at me blankly.
"Think we need to?" "Yes, Pat I think we do."
I grabbed some triggers and a trusty light gun from my bag. Since there were only two of us, Pat would have to play lighting assistant and model.
As the water began to boil Pat pulled a container of fly paper out. It's time to attempt a photo.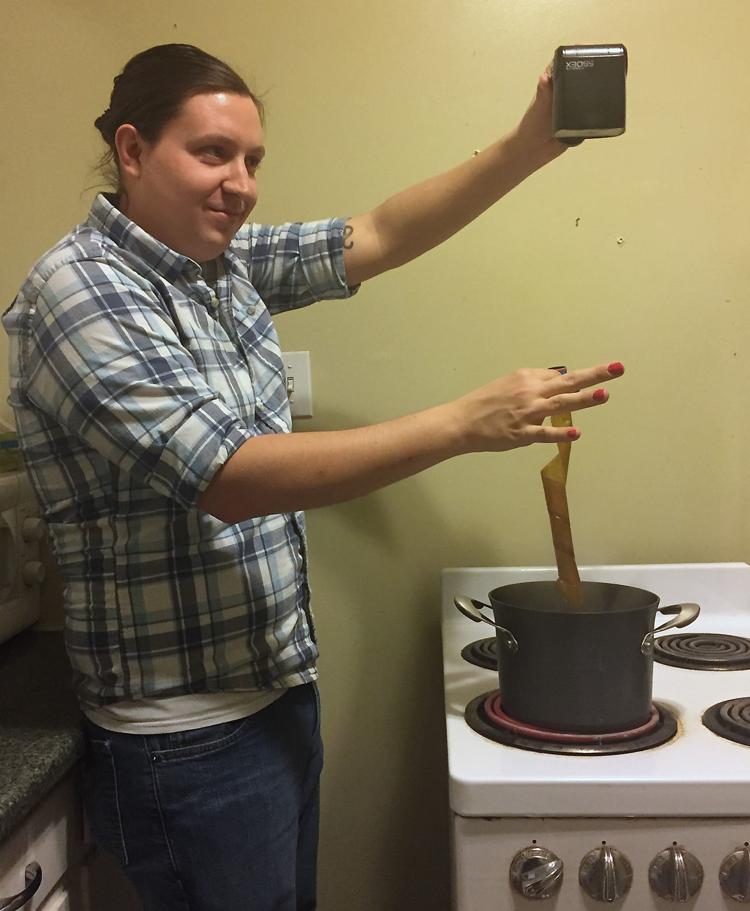 The point of the image was to convey boiling fly paper, which made the arsenic that Lyda Southard used to poison her victims. This was the reasoning behind the nail polish, the fly paper and why Pat is at my apartment in the first place.
I turned the flash to 1/32 power and closed the aperture down to f6.3. Shutter speed was set to sync at 1/250 with an ISO at Lo (50). I scooted back to the wall and zoom in a bit (60mm) and made a test frame. Exposure was spot on and it was time to start testing camera angles.
We quickly realized that the fly paper was longer than we wanted. There's too much separation between the stove, pot and fly paper to make a clean condensed image. Pat asked for scissors, and I hand him a pair from the kitchen.
"Are these kitchen scissors or regular ones?" he asked.
"These are the scissors I've had since kindergarten," I responded. He shrugs and attempts to cut the extremely sticky fly paper.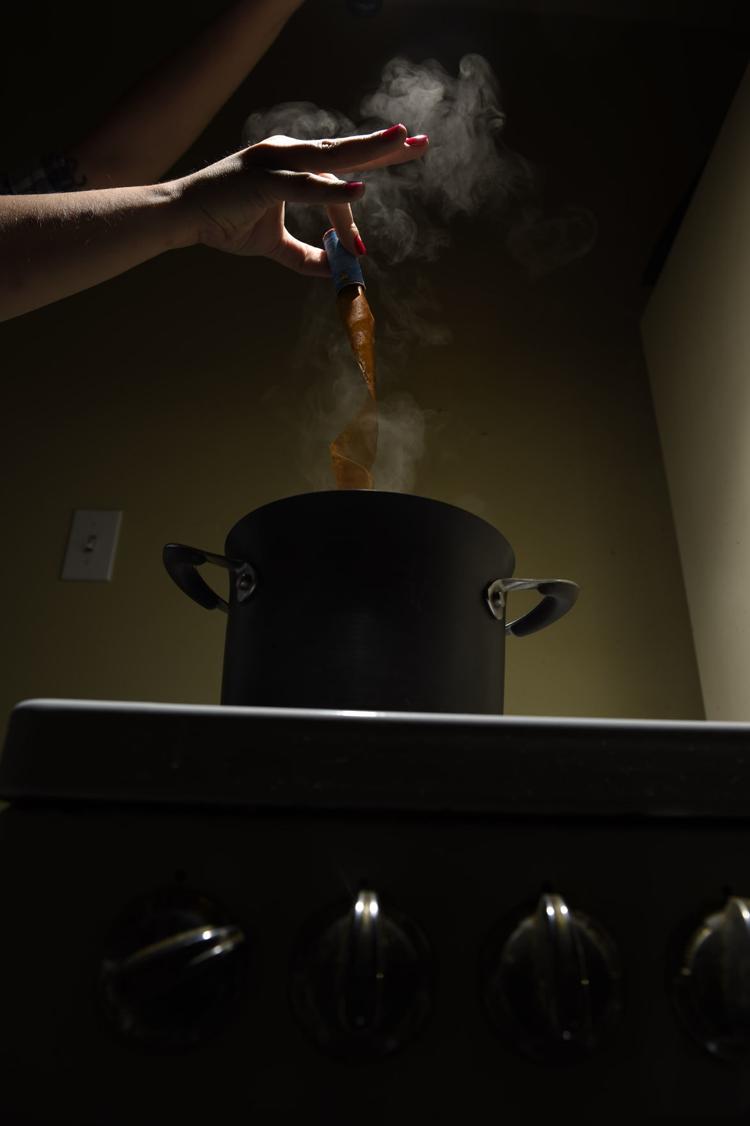 After a five-minute conversation about the nuances of scissors versus kitchen shears and 30 attempts to cut the finicky fly paper, we finally succeeded in shortening it.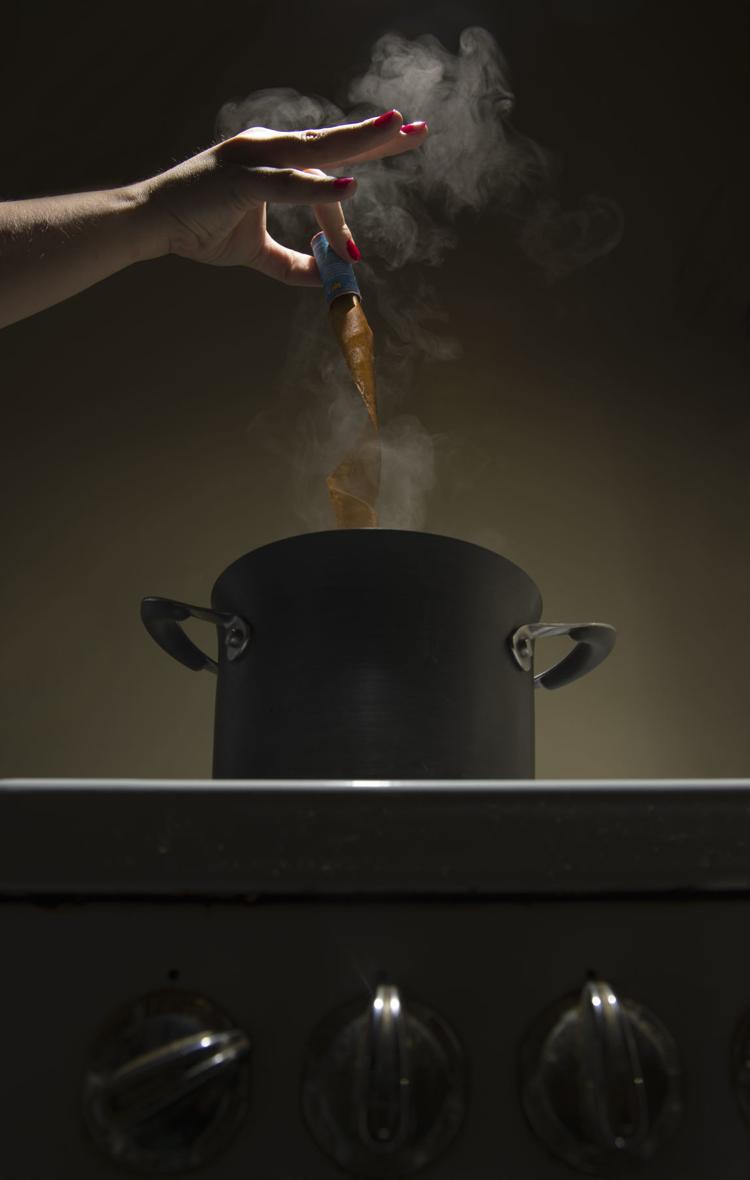 Adjusting Pat's body position, we try and kill off some of the background. I decide to drop lower and go wider (26mm) for a more dynamic angle. I end up taping my iPhone slash flashlight to my fridge to try and highlight the stove knobs. Somewhere along the way, I realize I'm not shooting in RAW so I sheepishly change that setting as Pat mocks me. We work the shoot for a few more moments and after 29 images I'm happy with the last photo. Steam coming off the pot looks good. Hand position is nice, angle is solid, background is clean enough to finish off in post. Good. Pat needs to get home to the kids and I have a time clock issue and a rivalry game to shoot in 90 minutes.