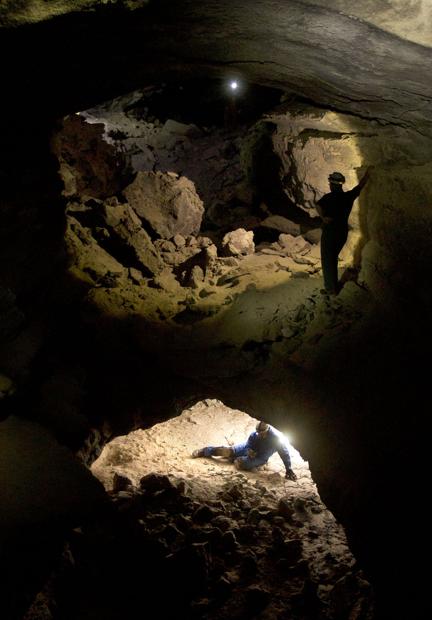 The Assignment
It was going to be dark, dusty and dingy and I couldn't wait to get my hands dirty doing it. That's right, I got to go spelunking with the Silver Sage Grotto recently and photograph two marquee caves, the Gypsum and the Jawdropper. Both caves were stunning, posing different challenges (physically and photographically) for me all along the way.
The Approach I did quite a bit of reading the night before the expedition about cave photography. From what I could tell there were mainly two schools of thought on how to do it. One was to set up a tripod for long exposures and paint the cave with light using headlamps and flashlights. The other was to set up remote slaves (flashes) along with existing light from caver's headlamps. With this being my first time out I decided against trying to lug around my heavy 3221W Bogen legs and a 3030 head. I needed to keep it light and allow myself to be nimble. Plus, I already had two perfectly good slave units along with a set of remote triggers I could use.
Gypsum Cave I was geared up from head to toe. Armed with three head lamps, a helmet, elbow pads, knee pads, gloves, caving suit, camera pack and boots. I was about to use every bit of it as I scuttled down some rocks and waited for the guys to unlock a gate leading into the darkness. I left my main camera body and lenses packed securely in my backpack. I wanted to know what I was getting myself into before attempting any photography. I pulled out my Pentax WG-2 (a rugged, waterproof point and shoot) and started making pictures. The plan we had decided on was to get to the end of our route as quickly as possible and then I, as the photographer, would know what options I wanted to shoot on our way back out. We soon encountered break down piles of lava debris. I also found myself inching my way across ledges of rock as we came to a section of the lava tube with multiple levels. It felt like I was climbing parts of Mt. Borah again, only this time it was much, much darker.
I let the dust settle and pulled out my Mark IV body and a 16-35mm f2.8 lens. Also known as the cocaine cave, gypsum is a fine white powder that gets on everything. I was not thrilled about trying to keep my sensor clean but I had a job to do. I turned on the slaves and handed them out to two of the cavers who would be closest to me. The rest would have to light each other up (or silhouette) using their headlamps. I directed the light as best I could and was somewhat impressed with how layered the images were turning out.
RSSBetween The Frames | Idaho Photography Blog
Drew Nash

Drew Nash started to develop into a photographer the moment he saw his first print come to life in the darkroom as a high school freshman. Since then he has watched the photography industry evolve from film to digital, darkrooms to light rooms.

Arriving in the Magic Valley in 2009, Nash has enjoyed covering topics as diverse as BASE jumping, politics, sports and wildfires. In his free time you'll find him rooting for his beloved Kansas City Chiefs or hiking and camping around this magical valley.

Feel free to ask him photography questions at dnash@magicvalley.com.
Stephen Reiss

Stephen Reiss was born in New York City in 1981. He received his undergraduate degrees in English and Biology from Skidmore College in 2003, and worked in the field of medical communications before turning his attention to photography in 2009.

Stephen graduated from the Documentary Studies and Photojournalism Program at the International Center of Photography in 2009, where he was awarded the John and Annamaria Philips Foundation Scholarship for Photojournalism.

He participated in the Eddie Adams WorkshopXXIII, LOOKbetween, and received a Magnum Foundation Emergency Fund Fellowship in 2013 for his long-term work on foster care in the South Bronx. The subsequent body of work has been published by the New York Times and Anthropology Now magazine. His work has been exhibited at the International Center of Photography in New York, Gallery I/D in Miami, The International Photography Awards and LOOKbetween.